'The Cleveland 500' Recognizes Tri-C Leaders As City Influencers
College President Alex Johnson, Foundation President Megan O'Bryan honored for second straight year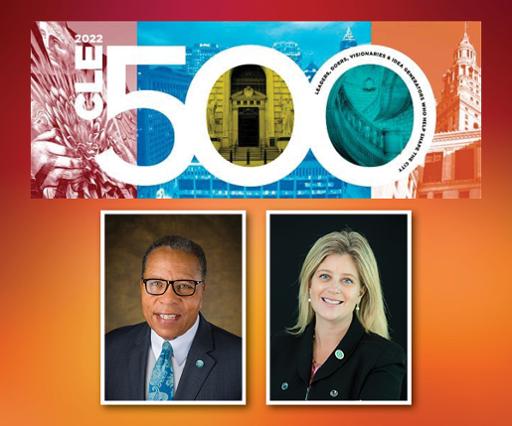 For the second consecutive year, two Cuyahoga Community College (Tri-C®) leaders are among The Cleveland 500 — a collection of civic leaders, doers, visionaries and idea generators helping to shape the city's future.
College president Alex Johnson and Tri-C Foundation president Megan O'Bryan were named to the list of forward-thinking influencers highlighted by Cleveland Magazine in the February issue of Community Leader. Johnson was recognized among education leaders; O'Bryan among civic leaders. (The full list includes individual profiles.)
Serving as Tri-C president since 2013, Johnson has reshaped the student experience with a strong focus on access, equity and success. Graduation rates and totals have reached record numbers and continue to climb under his guidance.
O'Bryan joined the College in 2015 to lead the Foundation, which works to provide Tri-C students with the resources to learn and thrive. The Foundation provided $4.2 million in scholarships to 2,961 students in the 2020-2021 academic year.
January 24, 2022
By Anthony Moujaes, 216-987-3068 or anthony.moujaes@tri-c.edu