Taking a Stand
Ukrainian student Mia Ostrovska completes degree at Tri-C, uses skills for activism efforts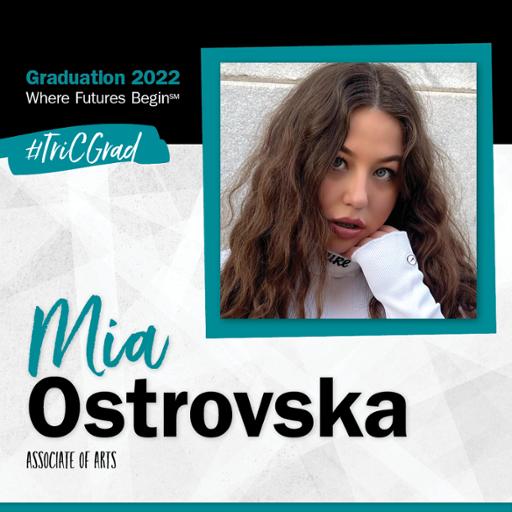 As Russia invaded Ukraine in February 2022, Mia Ostrovska sat on her bed watching it all unfold.
"It brought me so much sadness," she said. "I knew I had to do something."
Nineteen-year-old Ostrovska will graduate from Cuyahoga Community College (Tri-C®) in June with an Associate of Arts degree. She says Tri-C helped hone her social media and marketing skills, which she's used to help the people of her home country.
"I'm from Ukraine. I was born there," she said. "I organized a charity night and two peaceful protests to raise money for Ukraine. All the social media classes I took at Tri-C really helped me with everything."
Using connections she's made in the Cleveland area, Ostrovska was able to engage a group of friends to help raise $10,000 on the charity night and rally close to 600 people at two protests on Public Square.
"I mostly helped with the setup of these events and making connections," she said. "I used social media to spread the word to get people to come, and I took photos as an event photographer."
Ostrovska had a good foundation in social media, but Tri-C helped take her skills to the next level. She mentioned that Media and Journalism Studies professor John Kerezy really helped her thrive while in school.
"As soon as he found out about Ukraine, he really put the time into helping me," she said. "No professor has ever done that for me. He checked up on me and made sure I was doing OK."
She also says that a lot of her other professors helped her overcome effects of the COVID-19 pandemic with the shift from in-person to online classes.
"It was a challenge because I had never done online classes before, but my professors helped with everything I needed," she said. "I was scared and confused, but I got used to it. Now I love doing it all online."
Coming to Tri-C initially as a College Credit Plus student while attending North Royalton High School, Ostrovska especially appreciates the freedom and straightforwardness of a community college.
"I started taking classes at Tri-C because I knew I'd be able to graduate early," she said. "I don't like school very much, but Tri-C was so open and free-willed. I appreciate that I get to work at my own pace, on my own schedule."
After graduation, Ostrovska plans to pursue a career in social media — once she takes a little time to focus on her wellness, of course.
"I've been in school a long time, so I want to give myself a little break," she said. "Then, I intend to fully pursue me."
To stay up to date on her activism efforts, you can follow Ostrovska on Instagram at @miaostrovska or @miass_photography. A second charity night is planned for May 28 from 7-10:30 p.m. at Caffeine Lakewood.
Cuyahoga Community College will celebrate the academic achievements of its newest graduates during commencement on June 2 at Progressive Field in Cleveland. Check our News and Events page leading up to the event for more highlights of the Class of 2022.
May 23, 2022
Madeline Shepherd, 216-987-4616 madeline.shepherd@tri-c.edu