Study Highlights Tri-C Strategies to Create Equity in Digital Learning
College's institution-wide approach cited as model for bridging equity gaps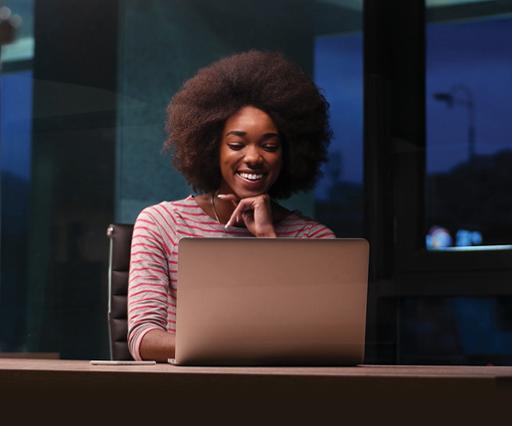 Equity is a core component in the ongoing effort to level the playing field for student success at Cuyahoga Community College (Tri-C®). Now, the College's efforts to develop high-quality digital learning platforms are being shared across the higher education landscape as a model for closing equity gaps ­— particularly among low-income students and students of color.
A recent study from Every Learner Everywhere highlights best practices and recommendations based on the success of digital learning initiatives implemented by Tri-C and six other colleges to better serve underrepresented students. Every Learner Everywhere seeks to help institutions use new technology to innovate teaching and learning and improving outcomes among vulnerable student populations.
The study credits Tri-C for its institution-wide approach to creating equity in digital learning and shares concrete examples of putting practice into action, including several from Tri-C:
Incorporate faculty voices to create a shared commitment across the organization for digital learning. According to the report, "Tri-C relies on a review board — made up of individuals from Academic and Student Affairs, Administration and Finance, Corporate College® and Workforce, Community and Economic Development — to ensure that administrative and academic technology-based projects are fully researched, select­ed and implemented in alignment with the College's strategic plan."
Engage faculty in course improvement. "Faculty create and sustain faculty learning communities, which ensure the tailoring of professional development topics to their classroom and pedagogical needs as they adopt digital teaching tools and strategies. As a re­sult, Tri-C is able to cultivate buy-in across digital learning initiatives."
 
Ensure access to devices and the internet for all students, instructors and staff. Tri-C has a Collegewide initiative to get devices "into the hands of students by providing free and reduced-cost laptops through its Student Laptop Program and Level Up program, both funded primarily by the Cuyahoga Community College Foundation. Designed to increase access to digital tools and improve student success, these programs work in parallel with Tri-C's efforts to expand Wi-Fi access to campus parking lots to promote student access to technology and the internet."
Support student readiness to use digital tools. "The Office of Online Learning and Technology created a Basic Computer Skills course with a wide array of modules. Launched in August 2021, the course is available online to faculty, students and the public."
 
Select and implement technology that can be equitably used by all students. "Tri-C acted quickly to embed an accessibility tool into their LMS, Blackboard, in the spring of 2020 to respond to accessibility challenges exacerbated by the rapid transition to online learning amidst the COVID-19 pandemic."
 
The full report is available on the Every Learner Everywhere website.
February 16, 2022
By Anthony Moujaes, 216-987-3068 or anthony.moujaes@tri-c.edu