Student Artwork Displayed at Metro Auditorium Honors Fallen Ukrainian Soldiers
'100 Warriors of Ukraine' is one of two installations ahead of Lviv Philharmonic performance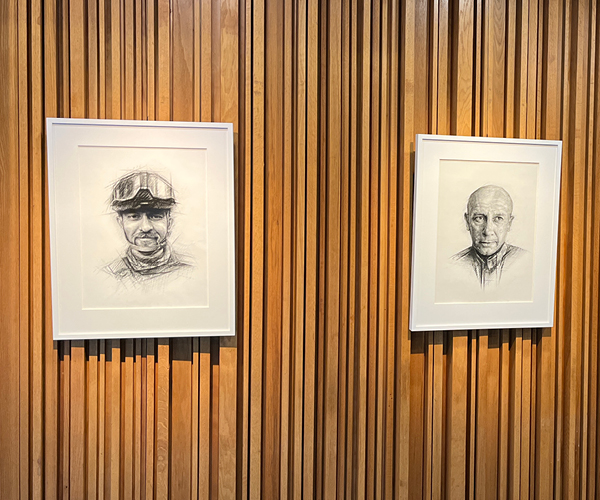 Moved by the strength and resolve of the people of Ukraine, Cleveland-based artist and Cuyahoga Community College (Tri-C®) student Dmytro Hunchak began collecting images and stories of fallen Ukrainian soldiers.
He transformed those images into art, which is now on display at the Metro Campus Auditorium ahead of the performance by the Lviv National Philharmonic Orchestra of Ukraine on Thursday, Feb. 23 ― the eve of Russia's full-scale invasion of Ukraine.
100 Warriors of Ukraine features Hunchak's portrait drawings of soldiers who have died in the conflict with Russia. 
Originally from the Lviv region of Ukraine, Hunchak attends classes at Tri-C's Western Campus in Parma and plans to transfer to a four-year art college. Hunchak's artistic interests include drawing, painting and photography. 
Over the last year, Hunchak has gathered photos and stories of fallen soldiers and started drawing in August. There are currently 10 portraits in the series, which he envisions will become a large body of work that will act as a growing memorial to Ukraine's fallen soldiers. 
Hunchak's art isn't the only installation on display.  
Unbreakable ― a series that travels with the Lviv Philharmonic ― features 21 paintings created during the war by Ukrainian artists from different generations and regions. It depicts the unbreakable indomitability of Ukrainians who use art to strengthen hope and faith.  
Pieces by artist-professors at national art academies and young artists who continue to work in shelters are also featured. 
Tickets for this special event are on sale. Seating is reserved by section only. Tickets can be purchased at lvivnationalphilharmonic.eventbrite.com. Free, secure underground parking is available in Lot 5 off Woodland Avenue near East 30th Street. 
February 22, 2023
By Anthony Moujaes, 216-987-3068 or anthony.moujaes@tri-c.edu