State of Ohio to Partner With Tri-C to Train Students For Commercial Truck Driving
Student aid program offers financial aid for CDL completion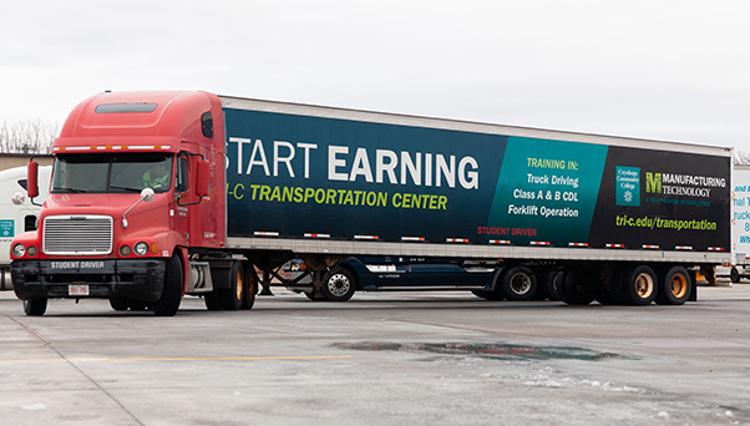 Cuyahoga Community College (Tri-C®) is among 30 community colleges and technical schools that will receive state funding to train individuals for jobs as commercial truck drivers.
The Commercial Truck Driver Student Aid Program will provide financial aid to in-state students who complete a CDL program and agree to reside and be employed in Ohio for a minimum of one year upon completion. Tri-C is set to receive $79,940.
"Partnerships like this are critical in providing support and training for in-demand jobs," said Alicia Booker, vice president of operations and manufacturing. "The economy relies on our ability to efficiently move materials and products, and we play an integral role in training personnel for the jobs of today and tomorrow. Without skilled workers, the process breaks down."
Tri-C launched its truck-driving program in 2008 and more than 1,000 graduates have earned their CDL through the program.
"Tri-C students who earn a CDL with this award will help strengthen and grow this in-demand occupation and improve job growth for Ohio's commercial drivers," said Randy Gardner, chancellor of the Ohio Department of Higher Education. "We know that commercial truck drivers are a vital part of Ohio's economy, and these awards will help this in-demand occupation to grow and thrive."
The program promotes and encourages job growth for Ohio's commercial drivers through educational training. The state allocated $2.5 million of funding to 30 schools, with a total of $5 million in funding available through the program over the next two years.
"This program provides another opportunity for students to prepare for a successful career at a reduced cost and will create a ripple effect that will benefit business and industry statewide," said Governor Mike DeWine.
Tri-C offers both Class A and Class B driver training at its Transportation Innovation Center in Euclid. The program is licensed by the Ohio Department of Public Safety and includes 120 hours of classroom and hands-on training.
Visit tri-c.edu/truckdriving or call 216-987-3226 for more information.
April 12, 2022
By Anthony Moujaes, 216-987-3068 or anthony.moujaes@tri-c.edu