'Stand for Racial Justice' High School Essay Contest Winner: Ethan Khorana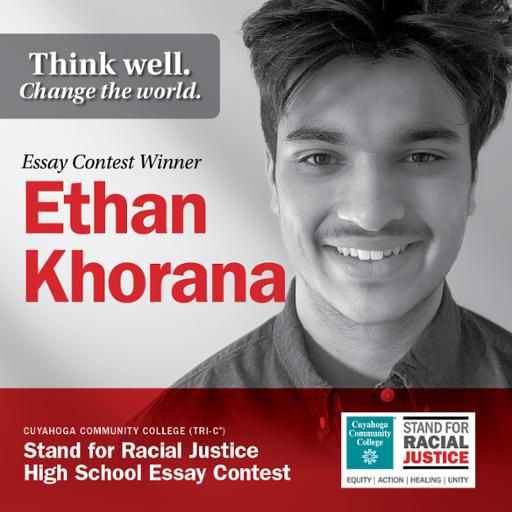 Cuyahoga Community College recently asked Northeast Ohio teens to weigh in on a question society often struggles to answer: What is racism, and what should we do about it? Nearly 200 students answered.
The following essay by Ethan Khorana of Shaker Heights was the first-place winner in the sophomore-freshmen group. He is a student at Mastery School of Hawken.
Above the shining city on the hill floats a cloud of darkness called racism. Racism has been ingrained in the depths of American society since before it's founding. Racism comes in two forms, individual racism and systemic racism. Individual racism can be partially solved by education, but the biggest harm to Americans of color is caused by structural racism. One example of structural racism is the police – the very system to protect and serve the people of our country. Every 40 hours a Black person is killed by the police. One of every 1,000 Black persons can expect to die from the bullet of a person in a blue uniform. In my hometown of Shaker Heights, a study proved that Black people were three times more likely to be ticketed by police than Whites. What is important to understand is that unjust policing can be caused by individual racism but it is allowed by structural racism. As James Baldwin said, "the one who pulled the trigger didn't buy the bullet." In order to stop racist policing, and to stop racism as a whole, we must fight for equitable systems and actual change.
Over the summer, my friend and I started an organization called the Minorities Tougher Movement and led a police reform campaign in Shaker Heights. Our group held protests and met with city officials. Through a public records request, we accessed police union collective bargaining agreements. We learned the Shaker Heights police officers' records of disciplinary actions and misconduct were erased every three years. We also learned the Shaker Heights officers do not have an explicit expectation that all officers follow police policies and that failure to do so is grounds for termination. These collective bargaining agreements make it very easy to hide police misconduct and do not hold officers accountable.
Our organization, built of people under age of 15, created the Just Society Proposal – a list of simple legislative police reforms. We campaigned alongside ACLU of Ohio and the Shaker Heights Anti-Racism Coalition. Although the Just Society Proposal was not passed, a list of our legislative recommendations were included in the first round of police reforms, and union contracts were renegotiated to not let officers' disciplinary actions be erased. Our movement was cited as one of the main contributors by the government.
The knowledge I have gained from this experience is that the people of our nation have more power than they know. Our group is a coalition of kids who cannot vote, but was still able to make a difference. It is our duty as American citizens to push our elected officials to fairly represent the people. It is time that all stand up to the injustices the we see and that we ask more from one another. That is what we should do about racism.
The Stand for Racial Justice High School Essay Contest was sponsored by Tri-C's Jack, Joseph and Morton Mandel Humanities Center in partnership with cleveland.com, The Plain Dealer and Sun News.
January 15, 2021
John Horton, 216-987-4281 john.horton@tri-c.edu