Spring Commencement 2023: David Bilskiy Finds a Better Future at Tri-C
Parma dental hygiene student earns Associate of Applied Science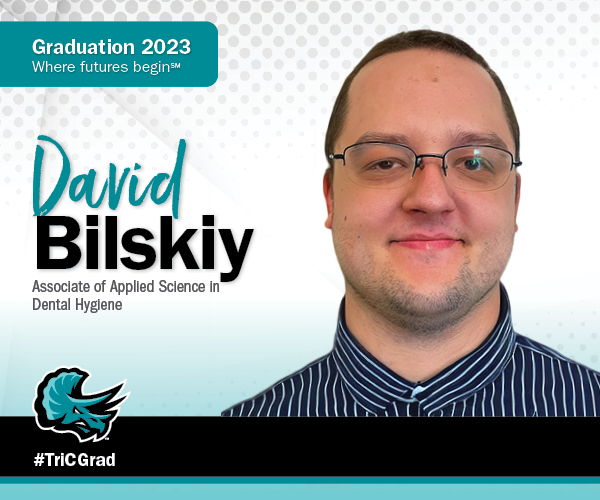 David Bilskiy wanted to grow his career in the dental industry, support his family and serve his community. He found that and more at Cuyahoga Community College (Tri-C®).
Working right after high school as a dental assistant and then a dental technician, Bilskiy wanted a better quality of life for his family after becoming a husband and father.
As the most convenient and affordable higher education institution, Bilskiy chose Tri-C's Dental Hygiene program in Fall 2018.
"In dental hygiene, you are a respected member of the dental team and can help others feel better about themselves through preventative treatment," he said. "It was important to me that I feel good about my work, and there are few things that can equate to serving the community you work in."
The Parma native will graduate with an Associate of Applied Science in Dental Hygiene during the College's Spring Commencement on May 19 at the Wolstein Center.
Describe your Tri-C experience.
I won't sugarcoat it. The Tri-C Dental Hygiene program was the hardest thing I ever had to do in my life. However, the comradery between me and my classmates allowed us to push through to the end. I am sure that if we had not helped one another each step of the way, I would not have made it this far.
How has Tri-C changed your life?
Tri-C has allowed me to affordably pursue a better quality of life. I can gladly say that I will graduate without any student debt into a very financially stable career. I have also formed friendships that I am sure will last a lifetime.
What's your advice for potential students considering a similar academic or career path?
The journey of a thousand miles begins with a single step. On that journey, there will be many slopes and valleys. There may be many days when your legs may not want to carry on. But if you continue one step at a time, one day at a time, you will soon be able to look back at all you have accomplished in wonder and astonishment.
Is there anything else you'd like to share?
If there is anyone that might feel overwhelmed at what the program will be like, don't be afraid. You are not alone. Many of us were unsure of ourselves. But I encourage everyone to take the plunge and pursue their dreams of a better future. You won't regret it!
Cuyahoga Community College will celebrate the academic achievements of its newest graduates during Commencement on May 19 at the Wolstein Center in Cleveland. Check our News and Events page leading up to the event for more highlights from the Class of 2023.
May 18, 2023
By Anthony Moujaes, 216-987-3068 or anthony.moujaes@tri-c.edu