Spring Commencement 2023: Andrew Yormick Grows Love for Outdoors Into Career
Lyndhurst resident graduating with Associate of Applied Science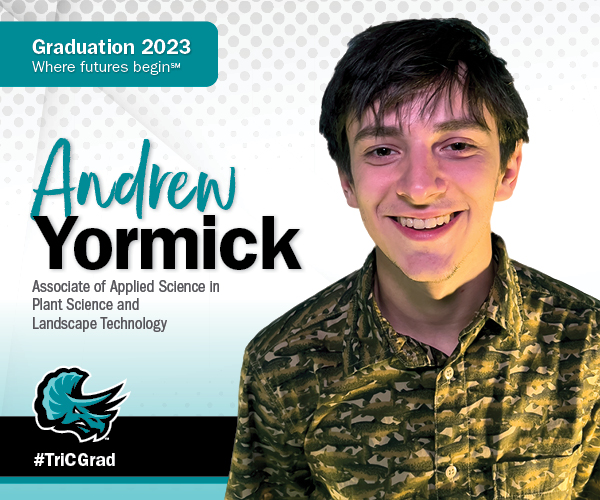 Andrew Yormick would rather climb a tree than sit in a cubicle. And thanks to the award-winning Plant Science and Landscape Technology program at Cuyahoga Community College (Tri-C®), he can make the great outdoors his office.
Yormick, 22, will graduate with an Associate of Applied Science in Plant Science and Landscape Technology during Spring Commencement on May 19 at the Wolstein Center.
"The love I have for this industry is fueled by the joy I get from working with plants and the environment each and every day," said the Lyndhurst resident.
Yormick took home a first-place award for small-engine repair during the 2023 National Collegiate Landscape Competition, held March 15-18 at Mississippi State University. Tri-C's team won five event championships and placed first overall in the competition.
"Our hard work paid off, and I couldn't be prouder," he said.
Yormick may continue his studies with a bachelor's degree in forestry down the road.
Tell me about yourself!
I'm rooted in the outdoors. You'll find me climbing, biking, hiking or birding. I enjoy being outside whenever I can. I'm extremely passionate about conservation. A sturdy tree is my equivalent of an office cubicle. Climbing trees seems ludicrous to some, but to me there's nothing more rewarding. You get to see views that very few people experience, and that's amazing.
Describe your Tri-C experience. Has a specific person, class or event played a role in your success?
Without question, professor Jim Funai is one of the most influential and informative people I've had the pleasure of learning from. His infectious passion for the industry and the hands-on learning material he teaches had me so excited to come to class. He makes me eager to learn. He's a phenomenal educator and teacher of the trees. But most importantly, a friend.
How has Tri-C changed your life?
Tri-C provided me with the stepping-stones to find the field I want to build a career in.
What's your advice for potential students considering a similar academic or career path?
Get involved! Whether that be an extracurricular, a club, etc. It's rewarding to network and build lifelong relationships. You'll find an opportunity where you least expect it.
Cuyahoga Community College will celebrate the academic achievements of its newest graduates during Commencement on May 19 at the Wolstein Center in Cleveland. Check our News and Events page leading up to the event for more highlights from the Class of 2023.  
May 12, 2023
By Noelle Bye, 216-987-4747 or noelle.bye@tri-c.edu