Spring Commencement 2023: Alex Richardson Finds His Bread and Butter at Tri-C
Eastlake resident earns Associate of Applied Business in Hospitality Management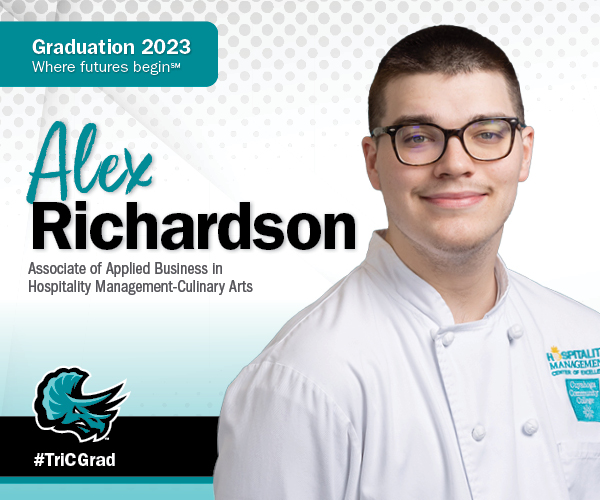 Alex Richardson's love for the culinary arts started early when his mother taught him basic recipes passed down from her grandmother. After a recruiter turned him on to the Hospitality Management program at Cuyahoga Community College (Tri-C®), he knew he had found his new home.
 
Richardson, 20, of Eastlake, will graduate magna cum laude with an Associate of Applied Business in Hospitality Management with a concentration in Culinary Arts during the College's Spring Commencement ceremony May 19 at the Wolstein Center.
 
"This was an incredible journey," he said. "I had a supportive counselor, Tomeka Ewing. I wasn't confident that I would make it through the basic course, but she told me she had faith in me. She always believed in me."
 
Richardson will transfer to Kent State University this fall to pursue a bachelor's degree in hospitality and event management.
 
Tell me about yourself!
I'm passionate about the hospitality industry. It has guided me and made me a better person.
 
What made you choose Tri-C? When did you first enroll?
Sarah Baldwin, a recruitment specialist for the Hospitality Management Center of Excellence, came to Beachwood High School for a presentation on the College's hospitality program. I was convinced Tri-C was the best place for me and enrolled in summer 2021.
 
Describe your Tri-C experience. Has a specific person, class or event played a role in your success?
Everyone at the Hospitality Management Center believed in me. I loved learning under chefs Tom Capretta, Derek Ivancic, Kitty George, Ky-Wai Wong and Maureen Leonard. They had my back and always gave excellent feedback on what I could and should have done to the dishes I made.
 
How has Tri-C changed your life?
Tri-C helped me become more independent and take care of difficult decisions myself. I had amazing faculty here at Tri-C who pushed me to the end.
 
What's your advice for potential students considering a similar academic or career path?
Classes come first, and then your job. Stay confident.
 
Cuyahoga Community College will celebrate the academic achievements of its newest graduates during Commencement on May 19 at the Wolstein Center in Cleveland. Check our News and Events page leading up to the event for more highlights from the Class of 2023.
May 08, 2023
By Noelle Bye, 216-987-4747 or noelle.bye@tri-c.edu