Spring 2023 Commencement: Theresa Sowul Finds Possibilities at Tri-C
Mandel Scholar earns Associate of Science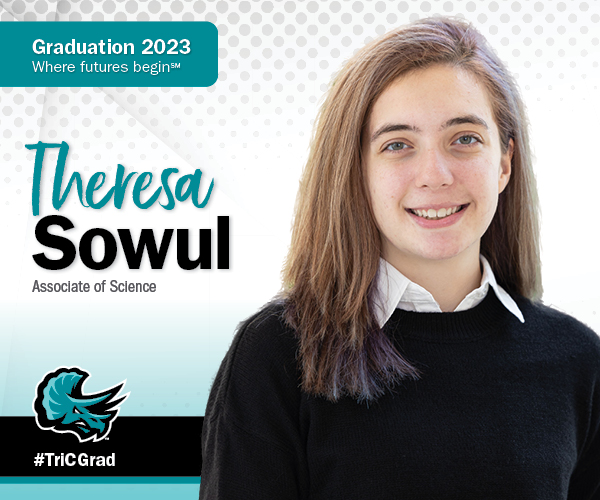 Theresa Sowul's schedule was busy even before she started her Tri-C journey. She's a dancer, an artist and has a third-degree black belt in Taekwondo. With plenty of extracurriculars on her plate, she hadn't planned to get involved in campus life at Tri-C. But the Mandel Scholar quickly found friendships that compelled her to join several student organizations.
She has served as secretary of the Western Campus Student Government, vice president of the Lambda Gender-Sexuality Alliance and secretary of the Psychology Club. She also enhanced her leadership skills and participated in community engagement through the Jack, Joseph and Morton Mandel Scholars Academy.
Sowul will graduate with her Associate of Science on May 19 when the College celebrates its Spring Commencement at the Wolstein Center.
Though she's planning to transfer to Cleveland State University to continue her pre-medical studies, a film studies course had the most impact on her at Tri-C.
"It gave me so much confidence in my ideas and really made me feel like I belong in college, and that all my work truly means something," she said. "Tri-C has helped me form so many new connections, and I know they will last for years to come."
That confidence helped Sowul craft the bridge to her future. The academic plans she had before graduating high school have changed completely, but Tri-C provided her with a supportive place to piece together a plan.
"Tri-C has given me so many opportunities that otherwise would not have been possible," Sowul said. 
What made you choose Tri-C? 
I was originally planning on going to a four-year university in the fall of 2021, but it was not financially possible for my family. Tri-C had so many opportunities for scholarships and financial help. I was not planning on getting involved with campus life but after joining the Jack, Joseph and Morton Mandel Scholars Academy, I found a family of friends that will last a lifetime.
How has Tri-C changed your life? 
I was able to start my educational journey without immediately burying myself in debt. I have also met so many people who have changed me for the better. If I had not gone to Tri-C I do not think I would have come as far as I have now.
What's your advice for potential students considering a similar academic or career path? 
Don't be afraid to do something that seems uncomfortable. I had a very clear idea of my academic path and all of that was thrown out the window after I graduated high school. While I wanted to take a gap year and try to figure something out, my parents pushed me to go to Tri-C. It might have been uncomfortable to start but it was the best decision I have made.
Cuyahoga Community College will celebrate the academic achievements of its newest graduates during Commencement on May 19 at the Wolstein Center in Cleveland. Check our News and Events page leading up to the event for more highlights from the Class of 2023.
May 13, 2023
By Stephanie Metzger-Lawrence, 216-987-4812 or stephanie.metzger@tri-c.edu