Spring 2023 Commencement: Renee Dockery Finds Academic Success as Adult Learner
South Euclid resident earns Associate of Applied Business degree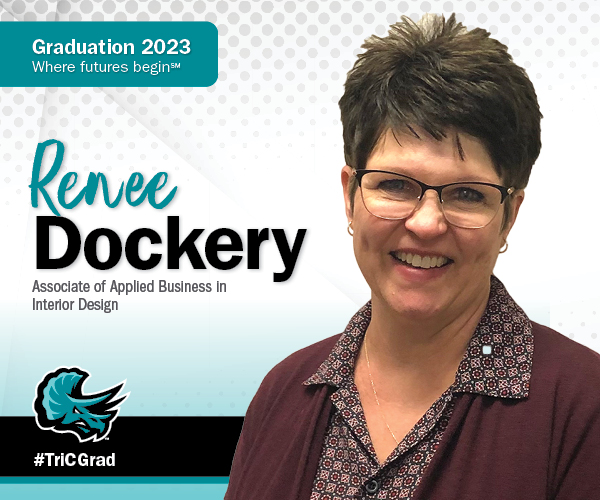 Renee Dockery has assumed many roles throughout her lifetime — from daughter and sister to spouse and mother of four. Returning to college as an adult, she took on a new role: that of lifelong learner.
Dockery earned a bachelor's degree in 1990, but a home renovation project inspired her to study interior design. She enrolled at Cuyahoga Community College (Tri-C®) in fall 2021 hoping to find academic success and an exciting new career.
The South Euclid resident will graduate summa cum laude with an Associate of Applied Business degree during Tri-C's Spring Commencement ceremony on May 19 at the Wolstein Center.
Dockery has participated in the Goldman Sachs 10,000 Small Businesses internship program for multiple semesters and helps run an outreach program with her spouse, Ken, a pastor at CityView Baptist Church.
Tell us about yourself!
I've always connected with people in support roles. Volunteer service with my church, raising my family and part-time customer service jobs have been some of my influences. A home remodel influenced my decision to study interior design. I loved going back to school. I loved learning, and I was very successful academically. I've been hired for a position I applied for years ago with a company I've admired for 20 years.
Describe your Tri-C experience. Has a specific person, class or event played a role in your success?
Certain professors were willing to go above and beyond to help me succeed. My MA-1100, hand drafting, REVIT, studio and fine art instructors were terrific.
How has Tri-C changed your life?
Before returning to college, I was largely defined by my roles as parent, daughter, sister and wife. Now I better know who I am as me.
What's your advice for potential students considering a similar academic or career path?
The Interior Design program is well-designed to help a graduate be employable. Apply yourself, learn as much as you can, ask questions and make friends.
Cuyahoga Community College will celebrate the academic achievements of its newest graduates during Commencement May 19 at the Wolstein Center in Cleveland. Check our News and Events page leading up to the event for more highlights from the Class of 2023.  
May 09, 2023
By Anthony Moujaes, 216-987-3068 or anthony.moujaes@tri-c.edu