Spring 2023 Commencement: Nariel Rahmon Fulfills Childhood Passion for Science
Tri-C degree gives Cleveland resident a head start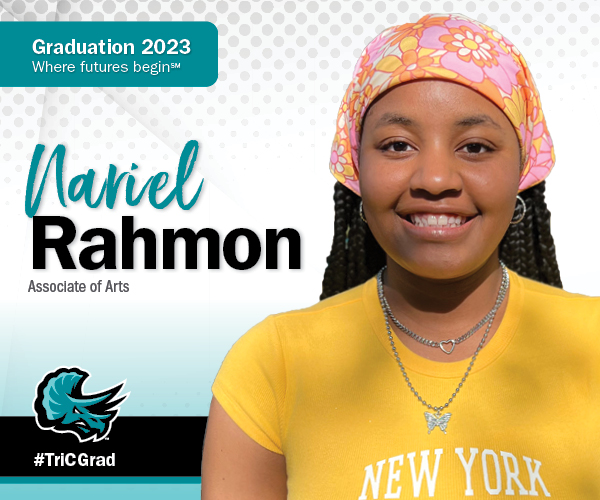 A visit to the NASA Glenn Research Center at age 5 inspired Nariel Rahmon's lifelong passion for science.
Rahmon enrolled at Cuyahoga Community College (Tri-C®) in 2020 during her sophomore year of high school through the College Credit Plus (CCP) program, which gives students in grades 7-12 the opportunity to earn college credits.
This spring, Rahmon will graduate with both her high school diploma and Associate of Arts from Tri-C before transferring to The Ohio State University in the fall. The College will hold its Spring Commencement on May 19 at the Wolstein Center.
The 18-year-old Cleveland resident plans to pursue a degree in a STEM field. She is considering neuroscience, biochemistry or engineering. Her passion is fueled by science fiction books and space-themed movies such as Star Wars and Interstellar. Rahmon captained the Cleveland Metropolitan School District's FIRST Robotics Competition team and took coding classes at Tri-C and the John Marshall School of Information Technology.
"I am also a Christian who wants to bring a new idea of religion and science working together," she said.
 
How has Tri-C changed your life?
Tri-C has allowed me to explore what it is like to be a college student. I am now able to go to The Ohio State University with skills that will help me adapt to a larger campus.
 
Describe your Tri-C experience. Has a specific person, class or event played a role in your success? Out of all the classes I have taken at Tri-C, I really enjoyed Human Biology the most. The professor I had during that class, Emma Weitzner, helped me fall in love with science and made me want to major in a STEM field.
 
What's your advice for potential students considering a similar academic or career path?
Do your own research when you choose this academic path. Sometimes you need to investigate, then ask questions for your own benefit. There is more to Tri-C than your guidance counselors will tell you.
 
Cuyahoga Community College will celebrate the academic achievements of its newest graduates during Commencement on May 19 at the Wolstein Center in Cleveland. Check our News and Events page leading up to the event for more highlights from the Class of 2023.
May 15, 2023
By Michael Von Glahn. Contact Anthony Moujaes, 216-987-3068 or anthony.moujaes@tri-c.edu