Spring 2023 Commencement: Mentor Points Khailand Kirkland Toward Academic Success
Tri-C organizations help Richmond Heights resident find scholarships, awards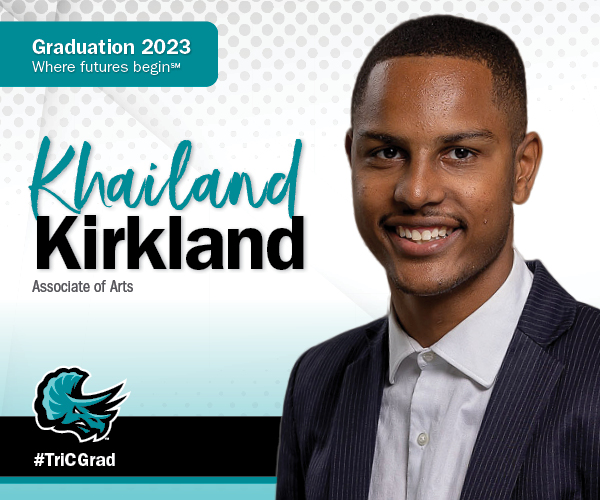 Khailand Kirkland credits Jacques Smith, program manager for the Black American Council (BAC) at Cuyahoga Community College (Tri-C®), for supporting his success.
"He helped me with scholarships and also checked on me regularly," Kirkland said. "He was, and still is, a mentor in every way."
Smith's guidance and Kirkland's drive and skills paid off when the BAC named him Outstanding Male Mentee. He was also named a Tau Boule Sigma Pi Phi Scholar and received the Frances M. Franklin Scholarship.
Serving in the student government as a senator at both the Eastern and Metropolitan campuses was a significant part of his Tri-C experience.
Kirkland will graduate with an Associate of Arts degree on Friday, May 19, at the Wolstein Center and will continue his education at Cleveland State University in the Middle Childhood Education program.
Tell us about yourself!
I'm passionate about my education and succeeding in life. My personal background has shaped my educational journey because both of my parents are educators. What interests me the most is wanting to help the next generation succeed.
What made you choose Tri-C? When did you first enroll?
I chose Tri-C because of its affordability and proximity to my home. I enrolled in Fall 2019.
Describe your Tri-C experience. Has a specific person, class or event played a role in your success?
I have met a lot of great people including students, professors, advisors and counselors. I have had the opportunity to meet deans and college presidents and was part of several student organizations and student government.
What's your advice for potential students considering a similar academic or career path?
My advice is to get involved in activities and organizations and apply for internships and scholarships.
Cuyahoga Community College will celebrate the academic achievements of its newest graduates during Commencement on May 19 at the Wolstein Center in Cleveland. Check our News and Events page leading up to the event for more highlights from the Class of 2023. 
May 17, 2023
By Michael Von Glahn. Contact Anthony Moujaes, 216-987-3068 or anthony.moujaes@tri-c.edu