Spring 2023 Commencement: Laryssa Maruski Follows Her Path to Tri-C
Brazil native and student speaker receives Associate of Arts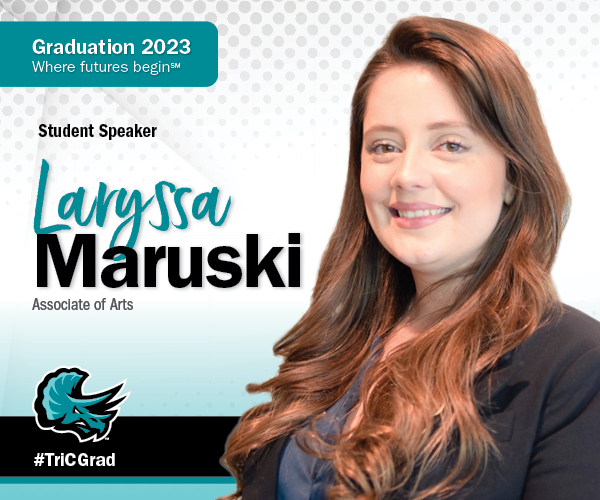 When Laryssa Maruski came to the United States in 2018 as an exchange student, her main goal was to learn English. She planned to return home to Sao Paulo, Brazil, to continue her academic journey, but then she realized an education in the U.S. would give her more opportunities.
Maruski found Cuyahoga Community College (Tri-C®) through an English as a Second Language (ESL) program before enrolling as a student.
"Tri-C was the beginning of my studies, but it was more than that — Tri-C helped me succeed during my time here," she said. "It helped me connect and feel part of the community, and I gained work experience."
The 25-year-old Jack, Joseph and Morton Mandel Scholar completed two internships with the Cuyahoga Community College Foundation and Student Engagement Office and received the Jerry Sue Thornton Scholarship. She was also a member of Phi Theta Kappa and named Western Campus Student of the Year for 2021-2022.
In addition to receiving her Associate of Arts, the Rocky River resident was selected as the student speaker for the College's Spring Commencement on May 19 at the Wolstein Center. Maruski will encourage her fellow graduates to follow their own path, pursue their passions and rise above challenges along the way.
Maruski is transferring to Cleveland State University in the fall to pursue a marketing major and international business minor. She expects to graduate with a bachelor's degree in Fall 2024.
Tell me about yourself!
I am passionate about trying new food from different parts of the world, learning about new cultures and experiencing new adventures. I love to travel, to watch sports events (especially soccer and basketball) and to play video games.
What made you choose Tri-C?
I choose Tri-C for its affordable, high-quality education, and I knew I could be successful with the resources and programs Tri-C has to offer. I have known about Tri-C since 2018 when I enrolled in the Aspire Program for free ESL classes at a local library. I started on my associate degree in the summer of 2021.
Describe your Tri-C experience. Has a specific person, class or event played a role in your success?
Throughout my journey at Tri-C, I have been involved outside of the classroom as much as I could, which helped me improve my time management, communication and leadership skills.
I think my success was the result of hard work with different people and departments, such as the Tri-C Foundation, Western Campus Student Engagement, Hispanic Council and the Mandel Scholars Academy. Each of the faculty and staff in these departments played a huge role in my success as a student, in my personal development and in my personal life.
How has Tri-C changed your life?
I was able to grow my leadership skills through Student Government, Joint Student Council, Tri-C Foundation Board, Mandel Scholars Academy and more. All my professors, colleagues and staff helped me to believe more in my potential and myself.
What's your advice for potential students considering a similar academic or career path?
Take a marketing or international business class, even if it is not part of your program. Audit it and try it out. Talk to the professor before or after classes, visit them during their office hours, and reach out to Career Center to learn more about the opportunities in that field. I had reassurance after I took three classes related to marketing and international business and learned about potential career opportunities.
Cuyahoga Community College will celebrate the academic achievements of its newest graduates during Commencement on May 19 at the Wolstein Center in Cleveland. Check our News and Events page leading up to the event for more highlights from the Class of 2023.
May 19, 2023
By Anthony Moujaes, 216-987-3068 or anthony.moujaes@tri-c.edu