Spring 2023 Commencement: International Student Abeer Diab Follows Her Passion to Tri-C
Westshore student graduating with Associate of Science in Nursing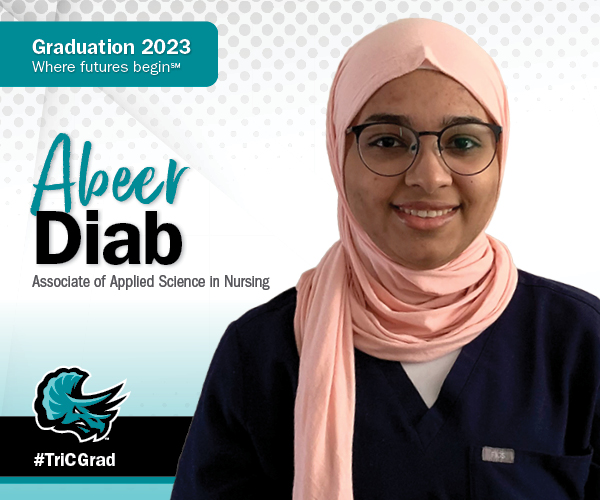 As a Palestinian living in Lebanon, Abeer Diab found opportunities for refugees were limited. Diab came to Cuyahoga Community College (Tri-C®) four years ago as an international student, determined to enter the health care industry.
"Nursing is my passion and helping people keeps me going," Diab said.
Diab, 21, will graduate cum laude with an Associate of Science in Nursing. The College's Spring Commencement is May 19 at the Wolstein Center.
The Rocky River resident and Westshore Campus student plans to transfer to Ohio University to pursue a Bachelor of Science in nursing.
"What makes me unique is my story," Diab said. "My culture, environment, family and circumstances gave me lifelong insights that I will keep forever as a guide."
What made you choose Tri-C?
My sister lived in Ohio for over a decade. When I was looking for colleges, she found Tri-C to be one of the best in nursing. I was lucky to get an acceptance letter and a visa to the U.S. within two months and started in Fall 2019.
Describe your Tri-C experience.
Throughout my Tri-c experience, I had to take many classes because of my student visa status. My professors were understanding and made the semester easier. As an international student, I cared most about securing a future for myself in this country. The first person I met who knew how to support international students was Natalie Harrington, career coach and director of Student Learning and Career Development at Westshore Campus. She guided me through building a resume, finding a job that sponsors international students and through life itself. If she did not know the answer to my question — even if it wasn't career-related — we figured it out together.
How has Tri-C changed your life?
Four years ago, I was living in a place where the goal every day was to survive. Now I live with higher ambitions and a chance to dream big and even chase those dreams.
What's your advice for potential students considering a similar academic or career path?
When I first came here, it took a long time to realize that there are people who want to help and that I didn't have to go through everything alone.
Cuyahoga Community College will celebrate the academic achievements of its newest graduates during Commencement on May 19 at the Wolstein Center in Cleveland. Check our News and Events page leading up to the event for more highlights from the Class of 2023.
May 14, 2023
By Anthony Moujaes, 216-987-3068 or anthony.moujaes@tri-c.edu