Spring 2023 Commencement: Evelyn Buchanan Finds Her Purpose
Shaker Heights resident graduating with Associate of Arts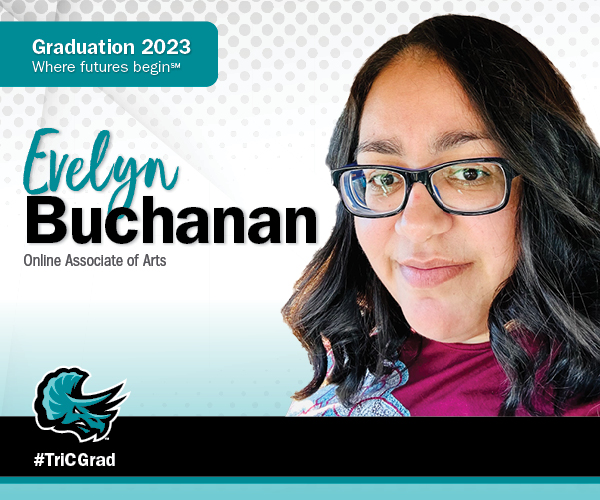 Evelyn Buchanan knows that her three children are watching her. The Cuyahoga Community College (Tri-C®) student wants to show them that hard work and dedication pay off.
Her example is sure to create a life-long memory. The Shaker Heights resident will graduate with an Associate of Arts degree in the College's Commencement ceremony on May 19 at the Wolstein Center. She was accepted to Cleveland State University and will pursue majors in psychology and criminology with a minor in neuroscience, and hopes to work in the mental health profession.
"I have always had a fascination with how the mind works, and I want to make an impact in helping those that may suffer from mental illness," she said.
Buchanan, 39, first came to Tri-C in 2004 at age 19, but had trouble defining her goals and left after one semester. After helping her husband register for the Tri-C Basic Police Academy program, she found a deeper sense of purpose and direction. With the support of her spouse, Buchanan returned to the College in Fall 2021 in the Online Associate of Arts program.
Along her path to becoming a Viking, Buchanan earned a 3.5 GPA and made the dean's list in Fall 2022.
"I am going to miss Tri-C, but I hope that in the future I can reach back and assist as an alum," she said. "I wish everyone much success in everything they do."
Tell us about yourself! 
I am a wife and mother of three children. I am passionate about my family and providing successful futures for my children. My personal background has shaped my educational journey because I know that my children are watching me.
What made you choose Tri-C? 
I first enrolled at Tri-C in 2004 at the age of 19. I left after the first semester because I did not know what I wanted to do with my life or what my purpose was. After helping my husband register for the Tri-C Basic Police Academy, I decided I needed to go back to school. The only difference is this time around I had a purpose, direction and the support of my loving husband to pursue my goals. Tri-C is supportive and understanding of a student's needs and readily available to assist with any issue you may have.
Describe your Tri-C experience.
My experience has been tremendously positive! There is a professor at the Western Campus, Julia Krevans, who is amazing. With all my classes online, all the professors have been amazing and understanding. I took an online class with Krevans at a set time, and she was always helpful, caring and ready to jump in and help with anything I may not understand.
How has Tri-C changed your life? 
Tri-C put me on a positive course and gave me a sense of pride in myself. I can hold my head high because working hard at Tri-C helped me obtain that, and I will continue to progress.
What's your advice for potential students considering a similar academic or career path? 
It is not easy, but as long as you stay motivated, dedicated and keep a line of communication open with all of your professors, you will excel. In life, if it is easy, it is not worth it!
Cuyahoga Community College will celebrate the academic achievements of its newest graduates during Commencement on May 19 at the Wolstein Center in Cleveland. Check our News and Events page leading up to the event for more highlights from the Class of 2023. 
May 19, 2023
By Anthony Moujaes, 216-987-3068 or anthony.moujaes@tri-c.edu