Spring 2023 Commencement: Devin Short Turns Dreams Into Reality
Medina native earns Associate of Applied Science in Veterinary Technology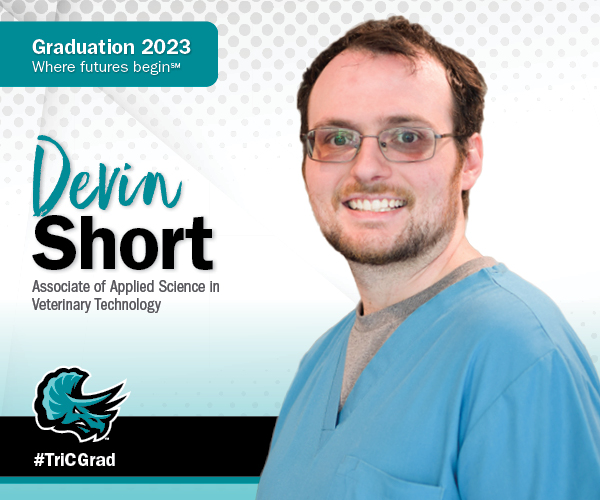 Devin Short found his career calling while working at a dog shelter in high school. Cuyahoga Community College (Tri-C®) helped make his dream a reality.
Fueled by his desire to work with animals and an interest in learning medicine, Short joined Tri-C's Veterinary Technology program and hasn't looked back.
"I love my chosen profession — especially on the days I get to participate in surgery," Short said. "I feel that I made the correct choice in deciding to become a veterinary technician and look forward to continuing to use what I've learned in the field."
The 30-year-old Medina native and Western Campus student will graduate magna cum laude with an Associate Applied Science in Veterinary Technology in the College's Commencement ceremony on May 19 at the Wolstein Center.
From there, Short will get right to work. His extern location extended a job offer that he gladly accepted.
"The veterinary technology program has given me opportunities to learn and grow," Short said. "I'm glad I chose this path and look forward to what the future holds."
What made you choose Tri-C?
I enrolled at Tri-C because of a conversation with my brother. I was at a point in my life where I was unsure what I wanted to do. At the time I was already looking into the courses that Tri-C offers. My brother told me that the role of a veterinary technician may suit me. At first, I shrugged him off, but then I began to think about what he said and realized that he was probably right. At that point, I decided to enroll in the Veterinary Technology program here at Tri-C, and I'm happy I did.
Describe your Tri-C experience. Has a specific person, class or event played a role in your success?
At times the program was challenging, but I had amazing instructors who were always willing to help me whenever something didn't quite make sense. With their help, I not only made my way through the program, but I'm graduating with honors.
How has Tri-C changed your life?
Tri-C has made my dream a reality, allowing me to pursue my interests and turn them into a career. Due to externships, I know where I'm going after I graduate. My current extern site extended a job offer to me that I gladly accepted.
What's your advice for potential students considering a similar academic or career path?
Don't sell yourself short. At times I had doubts about my abilities. However, instead of allowing that to weigh me down, I chose to work harder. If you feel like you can't do something, don't just give up, even when things are looking tough. Keep pushing forward.
Cuyahoga Community College will celebrate the academic achievements of its newest graduates during Commencement on May 19 at the Wolstein Center in Cleveland. Check our News and Events page leading up to the event for more highlights from the Class of 2023.   
May 16, 2023
By Anthony Moujaes, 216-987-3068 or anthony.moujaes@tri-c.edu