Spectrum News Highlights Tri-C, RTA Job Training Partnership
Patricia Myles shares story of how the program led her to a new career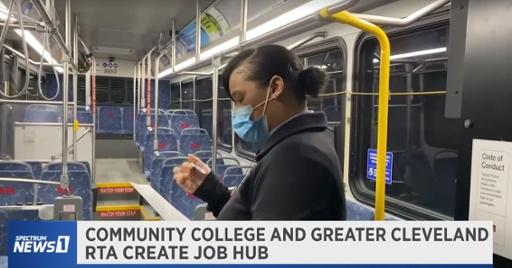 Cuyahoga Community College (Tri-C®) helped put Patricia Myles in the driver's seat for a new career with the Greater Cleveland Regional Transit Authority. 
An expanded job training partnership between Tri-C and RTA allowed Myles to transition into the transportation field after working in banking and insurance. The new program began this month. 
Myles recently shared her story with Spectrum News 1 reporter Rodneya Ross. She said the promise of an RTA job with a family-sustaining wage and solid benefits led her to the program. 
"It's a no-brainer for me," said Myles, who has begun on-the-road training. 
The partnership with Tri-C is part of RTA's plan to address expected job openings, as nearly 30% of its workforce is eligible to retire in the next four years. The goal is to fill the positions while maintaining safe, reliable, clean and courteous service to customers in Cuyahoga County. 
The program with the College will help RTA recruit new employees, upskill current workers and enhance leadership teams. 
Click here to watch the Spectrum report.
February 22, 2021
John Horton, 216-987-4281 john.horton@tri-c.edu