Seeing Possibilities
Optical Tech grad Sierra Brown earns second Tri-C degree; hopes to pay it forward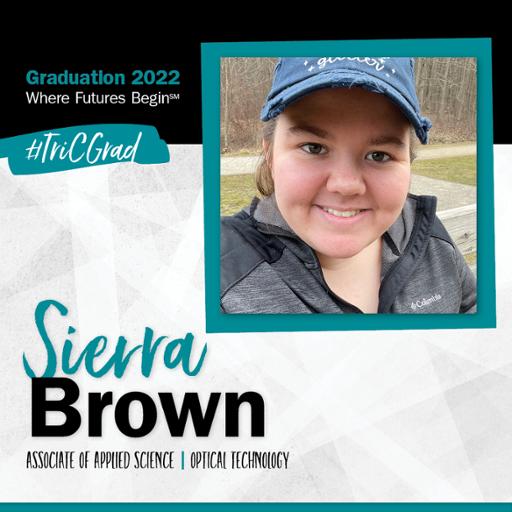 Sierra Brown will soon earn her second degree from Cuyahoga Community College (Tri-C®). One day, she hopes to teach at the College to pay forward what she received.
Brown, who enrolled at Tri-C in fall 2019, earned an Associate of Arts in December 2021. She will graduate with an Associate of Applied Science in Optical Technology during the College's Spring Commencement ceremony on June 2 at Progressive Field.
Her proudest accomplishment as a student was managing the optical dispensary, where she mentored other students in the program. The dispensary gives students real-world experience by allowing them to help community members with eyeglass fitting and purchase.
Brown attributes her success to the help she received from faculty.
"[Program manager] Molly Drenen helped me every step of the way by working with me extra if needed, guiding me in my role as student manager of the dispensary and answering any questions I had — even if they didn't pertain to her classes," she said. "I also received tons of help from my TRIO advisor, Brandi Aiken-McRae. She has been truly amazing in helping me figure out anything to do with scheduling, financial aid and transfer."
In addition to support from Tri-C faculty and staff, Brown gleaned wisdom from the experience of attending classes as a working adult.
"It's OK to need more time than you think is normal," she said. "Many community college students are also working, and they may need more time than expected."
Though she's proud of everything she's accomplished, Brown won't be attending the upcoming commencement ceremony. That's because was selected to attend the Opticians Association of America State Leadership Conference taking place June 2-4 in Florida.
"It was a big decision to miss commencement, but I believe what I can learn at this event will help me so much over the course of my career," she said. "It's too good of an opportunity to pass up."
Brown will enroll at Cleveland State University this fall to pursue a bachelor's degree. She hopes to return to the College as a faculty member one day.
"Tri-C has made such an amazing impact on my life," she said. "I want to be able to do that for others."
Cuyahoga Community College will celebrate the academic achievements of its newest graduates during commencement on June 2 at Progressive Field in Cleveland. Check our News and Events page leading up to the event for more highlights of the Class of 2022.
May 26, 2022
By Anthony Moujaes, 216-987-3068 or anthony.moujaes@tri-c.edu