Sec. of Transportation, Rep. Shontel Brown Tour Tri-C Training Facility in Euclid
Pete Buttigieg hosts 'fireside chat' with community leaders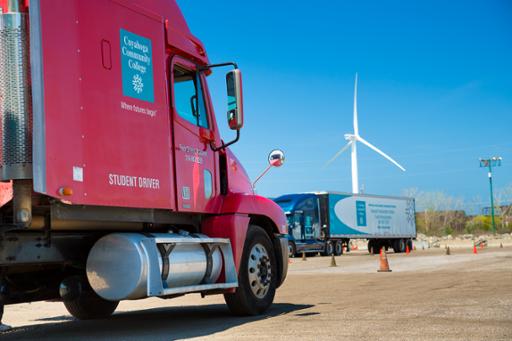 U.S. Transportation Secretary Pete Buttigieg got a firsthand look at how Cuyahoga Community College (Tri-C®) is training the workforce of the future when he and Rep. Shontel Brown visited the College's Transportation Innovation Center in Euclid on Thursday, May 5.
During a tour of the facility, they saw classrooms with transit technology, tested the truck driving simulator and hosted a "fireside chat" with community leaders about the need to train workers for the transportation industry.
"We have a huge need for skilled workers and transportation jobs," Buttigieg said. "We need skilled workers more than ever, and we've seen how Tri-C and regional employers are bringing their piece of that puzzle."
 
The story was covered by News 5 Cleveland, WKYC Channel 3 News and Spectrum News 1.
 
The Transportation Innovation Center offers workforce training designed to fill in-demand jobs critical to keeping the U.S. economy rolling. The training site houses the College's CDL training program — which has turned out nearly 1,000 graduates over the past decade — as well as programs targeting the growing supply chain and logistics industry.
May 09, 2022
By Anthony Moujaes, 216-987-3068 or anthony.moujaes@tri-c.edu