Scientific Discovery: Program Helps Tri-C Students Launch STEM Careers
National Institutes of Health sponsors grant-funded research training program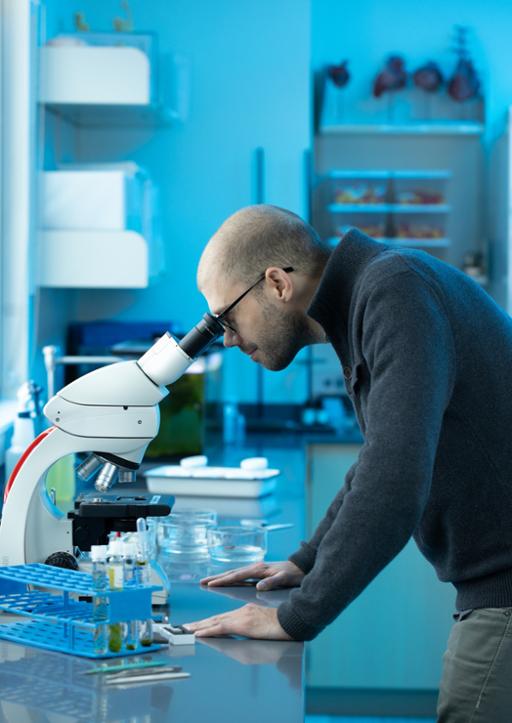 Kevin Jaworski spends his days poring over lab work and analyzing data as he completes his master's degree in clinical mental health counseling. Hours disappear writing up research and preparing presentations.
It's the life of someone building a future in the sciences — and it couldn't be further from where the 43-year-old stood just a few years ago.
At that time, he was trying to make it as a musician. His talents on the guitar brought concert bookings and tours that led across the United States into Canada and overseas to Europe and Japan.
"It was fun, and it was my main deal for a while," Jaworski said. "But as I got older, I was starting to think long-term, and my perspective started to change. I felt like I needed a career at that point."
He found it at Cuyahoga Community College (Tri-C®) through a National Institutes of Health (NIH) program, where Jaworski is one of many success stories built over the past two decades.
The NIH's Bridges to the Baccalaureate Research Training Program serves two primary purposes: It gives community college students in biomedical fields critical research experience, and it puts them on a path toward advanced degrees and careers as researchers.
The federal grant program focuses on groups who are underrepresented in biomedical research, including first-generation college students and those from low-income households.
The Bridges program establishes partnerships between community colleges and four-year institutions, creating a pipeline that carries students from an associate degree through to a bachelor's degree, master's degree and beyond. Tri-C partners with Case Western Reserve University and Cleveland State University.
Since 1998, when the College received its first Bridges grant from NIH, more than 250 students have participated. Seventy percent went on to four-year schools. Twenty-nine of those students achieved a master's degree. Six earned doctorates.
"We have been very successful, and I think that is one of the reasons we are able to keep renewing the grant," said Geza Varhegyi, an associate professor of biology at Tri-C who oversees the Bridges program.
Last year, the grant was renewed for $2.5 million over five years. Tri-C is one of only four community colleges in the country to be awarded Bridges money. Grants are more frequently awarded to four-year colleges that partner with local two-year schools.
Participating students get 60% of their tuition paid for at Tri-C and their four-year school, plus a stipend of about $800 per month. The grant can cover about 15 students at a time, providing financial support as they build solid academic and research credentials.
"These are students who might otherwise not have the chance to get their foot in the door and do research, especially at a two-year college," Varhegyi said.
'This looks perfect'
Jacqueline Krehel was heading to class at Tri-C's Western Campus when she saw a huge sign advertising the Bridges program: "I was like, 'Oh, my goodness. This looks perfect,'" she said.
Krehel knew from a young age that she wanted to work in a medical field. The 22-year-old is studying psychology, and Bridges offered exactly the right fit.
"Bridges streamlined things for me. It put me at a four-year university. It made things so much easier," she said.
Krehel earned her Associate of Arts from Tri-C in 2019 and is working on a bachelor's degree in psychology at CSU. Her current research project looks at eating disorders as well as attention and emotion regulation.
Using a computer to connect with her subjects, she offers prompts and then measures physiological responses using eye tracking to gauge what attracts attention.
"I thought that doing research at Tri-C was going to be somewhat limited, not being a four-year institution," said Krehel, who plans to pursue a Ph.D. and would like to work in research for the U.S. Department of Defense. "It would have been nearly impossible without Bridges."
Leading the way
Few people at the College are as enthusiastic about the Bridges program as Ormond Brathwaite, associate dean of STEM at Western Campus in Parma. He co-authored the original grant proposal in 1998.
Because of the focus on students underrepresented in biomedical fields, Bridges dovetails with Tri-C's mission to promote individual development and improve the quality of life in a multicultural community. It meshes a social function within the hardcore research and rigorous academics.
"We wanted to be part of the national voice and set models for other community colleges to follow," Brathwaite said.
The program allows Tri-C students to get a head start on their lab and research experience, providing opportunities many don't see until late in their baccalaureate degree studies or even graduate school, Brathwaite said.
Students are paired with mentors at CWRU or CSU who work with them to formulate research questions and design projects. The mentors assist with project logistics as well as with writing, ethics, data integrity and other aspects of the work.
Tri-C also offers courses that prepare students to professionally manage their research. At the conclusion of a project, students often report findings locally, regionally and even nationally.
Bridges has opened doors for Tri-C students to present at the New England Science Symposium at Harvard University and the Annual Biomedical Research Conference for Minority Students.
Program participants must maintain a 2.8 overall GPA, with a 3.0 GPA in science courses.
"We are looking for scholars," Brathwaite said. "This is a place where you are going to work, and you are going to succeed. Don't be afraid of the work."
Finding meaning
While he was working nights playing music, Jaworski sold pop-culture pins online as a day job. One activity provided him with money, the other with meaning. He said the Bridges program gave him both.
"It's really important to be clear on what's important to you, and that can honestly be scary," Jaworski said. "I know mental health is important to me. Helping people is important to me. I know that education is important to me. I didn't know that stuff before.
"This is what I was looking for. I could see all these threads that were already there in my life. It was just a matter of putting them all together."
Jaworski earned an Associate of Arts degree from Tri-C in 2017 and a bachelor's degree from CSU in 2019. He currently is wrapping up a study at CSU about substance abuse and the ways shame can impede progress. He hopes to publish a manuscript based on the research.
His goal is to work at a private practice, and he is close to securing an internship at one this fall. Jaworski said he doubts he would have found his way into research without the Bridges program.
"There's a part of me that's just interested in learning, in academics, and I had never scratched that itch," he said. "I feel like I really lucked out."
This story can also be found in the Spring 2021 edition of Tri-C Times.
April 14, 2021
Jarrod Zickefoose, 216-987-4750 jarrod.zickefoose@tri-c.edu