Reviving the Family Business
Lexus Rentschler discovers a passion for culinary arts at Tri-C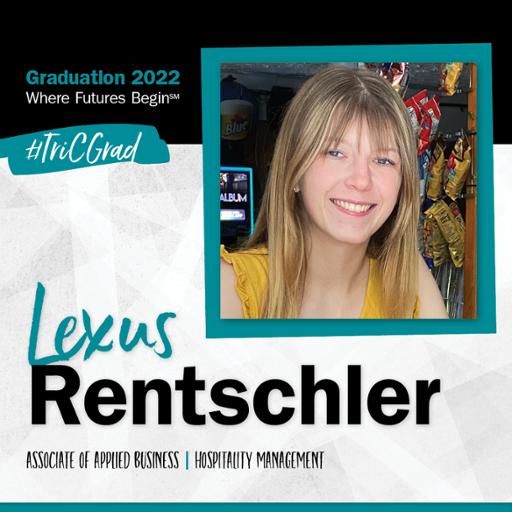 Lexus Rentschler realized her passion had been under her nose all along.
As an aspiring engineer, she knew she wanted to work with her hands. After taking general courses at the Cuyahoga Community College (Tri-C®) Brunswick University Center, she decided to pursue a culinary arts career at the Hospitality Management Center in downtown Cleveland.
"I found myself surrounded by renowned chefs and just tried to soak it all in like a sponge," said Rentschler, who has begun selling home-baked goods at her family's restaurant in Chippewa Lake. Her mother, Suzanne, has owned the Village Inn for 27 years and plans to pass the torch to Lexus this summer.
Renschler graduates with her Associate of Applied Business degree in Hospitality Management from Tri-C, whose Spring 2022 Commencement ceremony is June 2 at Progressive Field.
Despite her daily commute from Medina, Rentschler was never absent or late to class. When the COVID-19 pandemic hit, she continued the program's required work experience at the Village Inn.
When her family had to shut down their restaurant for a period of time, Rentschler resumed her coursework online while helping with renovations. When in-person learning resumed in 2021, she and her classmates learned new ways to prepare and present their dishes in light of the quickly changing industry.
"My favorite experience was working a Union Club event for my banquet course," she said.
After graduation, Rentschler plans to work closely with her mom in preparation for taking over as manager of the Village Inn. She's excited to introduce a dessert menu and plans to modernize the business' systems.
"I can't believe how much I learned from the chefs at Tri-C." Rentschler said. "They let you make mistakes, but they don't let you move on without learning the right way. I hope to be that kind of leader for my team."
Cuyahoga Community College will celebrate the academic achievements of its newest graduates during commencement on June 2 at Progressive Field in Cleveland. Check our News and Events page leading up to the event for more highlights of the Class of 2022.
June 01, 2022
By Katie Ramunni, 216-987-4823 or katie.ramunni@tri-c.edu