President Alex Johnson Statement on Ukraine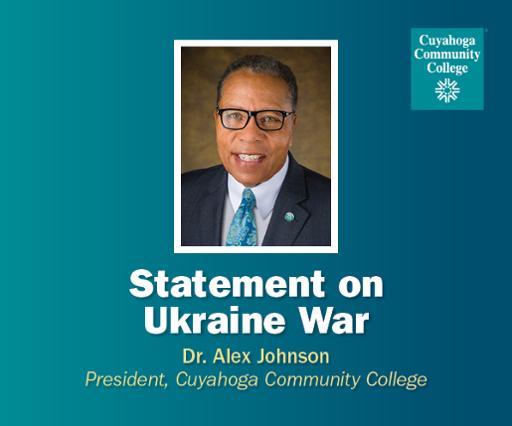 Our hearts are with the people of Ukraine and with our students and employees who belong to the local Ukrainian-American community. Parma, where our Western Campus is located, is home to more than 4,000 individuals of Ukrainian heritage. Thousands more live throughout Cuyahoga County and across the state.
In their honor, I join our fellow Americans in condemning the senseless invasion of Ukraine. The unprovoked attack by Russian forces is troubling, and the images of destruction that ensued, especially the loss of life, is disturbing.
In the coming days, the College will host events to promote dialogue and understanding with and among those who have been directly and indirectly affected by this tragedy. Further, we will join organizations and movements such as Global Cleveland in ensuring that innocent victims of the conflict who might relocate to our community are cared for and welcomed.
In the meantime, support services are available to students and employees. Students can call 216-987-6000 to schedule a confidential counseling session or visit Tri-C's Counseling page, which contains numerous resources. Employees should contact Impact Solutions for support and guidance. Counseling services are available 24 hours a day, 365 days a year. (Username: ccc)
In closing, please keep the Ukrainian people in your thoughts. We remain hopeful that diplomatic channels and a unified international effort will prevent this crisis from worsening.
Alex Johnson
President
March 01, 2022