Pete Schmitt Named 2023 Tri-C Student Veteran of the Year
Army veteran graduated summa cum laude from Tri-C in 2021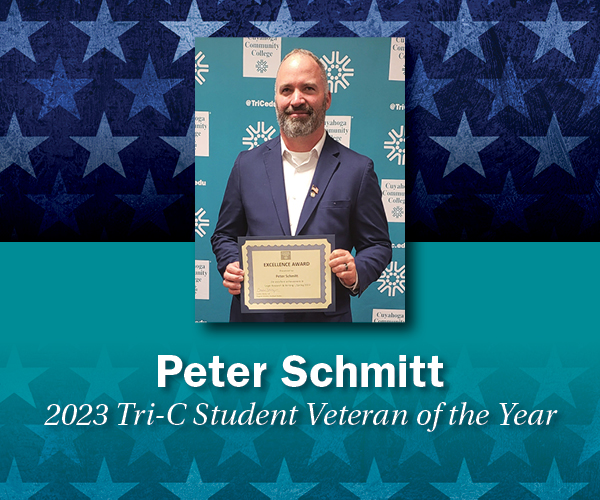 After a long and decorated military career and a distinguished academic career at Cuyahoga Community College (Tri-C®), Peter "Pete" Schmitt will receive the 2023 Tri-C Student Veteran of the Year award in a Veterans Day ceremony on Friday at Cleveland City Hall.
Schmitt, 48, graduated from Tri-C summa cum laude with an Associate of Arts degree in 2021 and is now working toward a bachelor's degree online in Global Logistics Management from Arizona State University.
He also received a certificate in Paralegal Studies from Tri-C in 2023.
"Tri-C has helped me grow into my role outside of my military career," Schmitt said. "The staff and professors have been great assisting me in learning a new set of skills as well as relearning how to effectively communicate with others who do not have a military background."
A native of the Columbus area, Schmitt enlisted in the Army in 1996 and served at various installations in the U.S. and South Korea. He thought about leaving the Army in 2001, but after the September 11 attacks, he decided to make defending his country his career.
He deployed three times to Iraq, serving as a gunner protecting logistical and maintenance convoys, as well as other security missions and operations in and around Baghdad. On his final tour, he was selected above many seniors and peers to serve as the 4th Brigade Combat Team, 1st Cavalry Division Personal Security Detachment NCOIC.
Following his final Iraq tour, Schmitt served in other regions, including Fort Wainwright in Alaska and the Khyber Pakhtunkhwa province of Pakistan, where he provided aid to monsoon flood victims.
Schmitt retired from the Army in 2016 and moved back to Ohio, where he and his family have lived in North Olmsted and Medina County.
"Winning the Tri-C Student Veteran of the Year award is a truly humbling experience," he said. "I understand that this is an individual award for my achievements, yet I also know that I can share the glory with my family and friends who have supported me throughout my post-military endeavors."
November 06, 2023
By Erik Cassano, 216-987-3577 or erik.cassano@tri-c.edu