Outdoor Stage Lineup Announced for Tri-C JazzFest
Eighteen bands selected to perform June 28-29 at Playhouse Square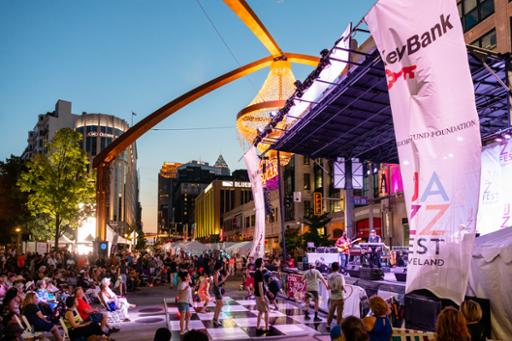 Nearly 24 hours of live music showcasing the best of Northeast Ohio will take place at this summer's hottest downtown music festival, the 40th annual Tri-C JazzFest Cleveland, presented by KeyBank.
Eighteen exciting acts promise to keep the music pumping from the Strassman Insurance Stage on Euclid Avenue at East 14th Street. The free outdoor performances run 3 p.m. to midnight June 28-29 when Tri-C JazzFest overtakes Playhouse Square.
A jury of music industry professionals vetted more than 100 bands while putting together the lineup. The chosen bands represent a variety of genres, including jazz, funk, blues, reggae and swamp pop.
"We love this component of the festival because it showcases the incredible talent here in Northeast Ohio," said Terri Pontremoli, director of Tri-C JazzFest. "These artists bring a true passion and love of music to the stage."
Look for the following acts, listed by day of performance. A full schedule with performance times will be posted at www.tri-cjazzfest.com closer to the event. Schedule subject to change.
Friday, June 28
Dan Bruce's :beta collective: This modern jazz ensemble led by guitarist/composer Dan Bruce performs original compositions with a flair for musical improvisation.
Cleveland Jazz Orchestra (CJO): For 35 years, CJO has been one of Northeast Ohio's premier jazz orchestras with outstanding arrangers, writers and soloists.
The Mike Cady Experience: Vocalist Cady is joined by Cleveland legend Eddie Baccus, Sr., Perry Williams III, Bobby Curry and Cecil Rucker for a down-home swingin' set.
The Airmen of Note: This premier U.S. Air Force big band features 18 active-duty musicians from across the nation. The group's tradition dates to 1950.
Rachel Brown & The Beatnik Playboys: Vocalist Rachel Brown and the group consistently wow audiences with powerful imagery and strong musical stylings.
Dave McMurray Trio: Best known as a tenor saxophonist, Detroit native McMurray has played with the likes of Bob Dylan, Bonnie Raitt and Gladys Knight, to name a few.
Collin Miller & the Brother Nature: This neo-soul and funk group delivers high-energy performances full of booming horns, keen vocal harmonies and surefire rhythm.
The Armstrong Bearcat Band: Led by guitarist Butch Armstrong, this local band is celebrating its 30th year of hard-driving, in-your-face blues.
Carlos Jones & the P.L.U.S. Band: Jones and his eight-piece band deliver authentic roots reggae with occasional turns into lighthearted soca and calypso numbers.
 Saturday, June 29
Tri-C JazzFest Academy Summer Camp: Students from the JazzFest summer camp show off what they've learned over two weeks of intensive training.
Cats On Holiday: This swamp pop band led by Denis DeVito has been pleasing audiences for 25 years with a blend of Louisiana-inspired rock/roots/Zydeco.
Charm The Guard: This pop/alternative band of Northeast Ohio teens jammed their way into the semifinals of the 2019 Tri-C High School Rock-Off.
Red Light Roxy: Long a favorite in the regional swing dance scene, this group plays a mix of standards, jump blues, swing, Latin jazz, boogie-woogie and more.
Bobby Selvaggio Quartet: Alto saxophonist Bobby Selvaggio's high-energy group features pianist Theron Brown, bassist Paul Thompson and drummer Zaire Darden.
Nathan-Paul & The Admirables: This band embarks on performances full of bold earth tones, dynamic twists and hypnotic grooves.
Orlando Watson: Spoken-word poet Orlando Watson's soulful baritone voice weaves through words accompanied by acoustic and digital instrumentation.
Herb Wilborn Jr. Band: This six-piece contemporary/smooth jazz group conjures comparisons to artists such as Dave Koz, David Sanborn and Najee.
Sammy DeLeon y su Orquesta: Percussionist Sammy DeLeon — recipient of the 2016 Cleveland Jazz Legends Award — has performed with some of the world's greatest Latin musicians and always rocks the stage.
The free performances on the outdoor stage are made possible with support from the George Gund Foundation and Strassman Insurance Services.
A happy hour with discounted drinks starts on the plaza at 5 p.m. Friday, June 28. The night will also feature street performers, the Cleveland Museum of Art's Parade the Circle puppets and line dancing.
Other free outdoor activities at the festival include the U.S. Bank Kids Club; cooking demonstrations; food trucks and vendors; games; the Chemical Bank Jazz Talk Tent with artist interviews; and a Saturday morning yoga session.
JazzFest also features nine ticketed concerts in Playhouse Square's historic theaters. Headliners for the shows include Tower of Power, Béla Fleck & The Flecktones, Dianne Reeves, Christian McBride, Regina Carter and more.
Tickets are available through the Playhouse Square Box Office at www.playhousesquare.org or 216-241-6000. For a complete indoor lineup, show times and costs, visit www.tri-cjazzfest.com.
Tri-C JazzFest Cleveland is presented by KeyBank and made possible by Cuyahoga Community College, the National Endowment for the Arts, Ohio Arts Council and a growing list of donors and members.
April 30, 2019
John Horton, 216-987-4281 john.horton@tri-c.edu