Ohio Arts Council Honors Two Tri-C Professors
Stephanie Craig and Andrea LeBlond recognized with Individual Excellence Awards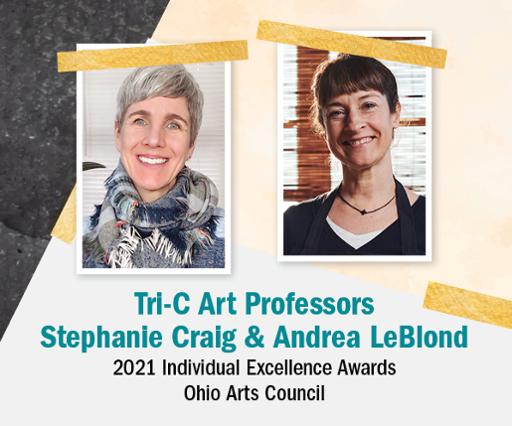 Cuyahoga Community College (Tri-C®) art professors Stephanie Craig and Andrea LeBlond have earned 2021 Individual Excellence Awards from the Ohio Arts Council. 
The award recognizes an artist's body of work and how it exemplifies a specific discipline while advancing the larger artistic community. Craig and LeBlond were both recognized in the craft category. 
The Tri-C professors are among 75 honorees across the state selected through an open panel review process. 
Craig serves as an assistant art professor at Tri-C's Western Campus, where she teaches ceramics, 3D foundation and sculpture classes. She is also co-director of the campus art gallery. 
In addition to teaching, Craig maintains an active studio practice and busy exhibition schedule. This is her third Individual Excellence Award from the Ohio Arts Council. She was also honored in 2008 and 2015. 
LeBlond is an adjunct art professor at Tri-C's Metropolitan Campus who specializes in ceramics. She has also been working for nearly two decades as a ceramic artist at Cleveland's TerraVista Studios. 
This is LeBlond's second Individual Excellence Award. Her first came in 2008. 
The awards support the growth and development of Ohio artists. Each honoree will receive a $4,000 grant to further explore their art form and advance their career. 
"Individual Excellence Awards represent investment in imagination, artistry and talent by giving artists the resources to innovate," said Donna S. Collins, executive director of the Ohio Arts Council. 
The award competition focuses on different creative art disciplines every year. The 2021 entries were in the categories of crafts, design, interdisciplinary arts, media arts, photography, visual arts 2D and visual arts 3D. 
The Ohio Arts Council is a state agency that funds and supports quality arts experiences to strengthen Ohio communities culturally, educationally and economically.
January 27, 2021
John Horton, 216-987-4281 john.horton@tri-c.edu