OCCAC All-Decade Baseball Team Includes Five Tri-C Players
Conference team honors the best on the diamond in the 2010s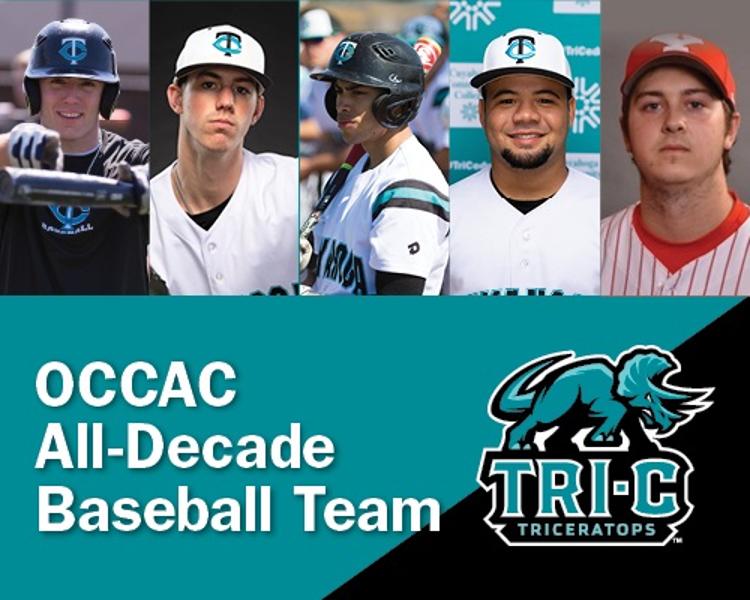 A quintet of Cuyahoga Community College baseball players have been named among the OCCAC's best of the 2010s.

Tuesday, the conference released its All-Decade Baseball Team, studded with Tri-C players from throughout past 10 years. They are:
Brock Begue (pitcher), a 2019 First-Team All-American and 2018 Third-Team All-American. Begue is the only two-time All-American on the team.
As a freshman in 2018, Begue posted an 11-1 record with a 2.07 ERA and 94 strikeouts. As a sophomore in 2019, he reached double figures in wins again with a 10-1 record, lowering his ERA to 1.61 and notching 130 strikeouts.
Begue was selected by the Milwaukee Brewers in the 11th round of last year's Major League Baseball First-Year Player Draft. He was the first Tri-C player selected in the MLB draft since 2011.
His success came despite physical limitations stemming from a series of strokes shortly after birth.
David Espinal (catcher/first baseman), a 2019 Third-Team All-American.
During the 2019 season, Espinal ranked among the national leaders with a .412 batting average and 59 RBI. He was a productive power hitter, belting 10 homers and notching 14 doubles.
Matt Starcovic (outfielder), a 2017 Third-Team All-American.
In his All-American season, Starcovic batted .400 with 11 homers, 18 doubles and 54 RBI, while reaching base in nearly half of his at-bats. 
He was named the 2017 OCCAC Player of the Year.
Manny Rodriguez (infielder), a 2016 Second-Team All-American.
Rodriguez batted .375 during the 2016 season with six homers, six doubles and four triples, scoring 43 runs and driving in 32.
He was named the 2016 OCCAC Player of the Year.
Jake Kucek (catcher/designated hitter), a 2011 Third-Team All-American.
In his All-American season, Kucek hit .481 with 12 doubles, 32 RBI and 30 runs scored.
Tri-C and Sinclair Community College dominated the All-Decade Team with a combined 11 of 12 entries. Sinclair's All-Decade players include infielders Marcus Heath, Taylor Huebner and Mike Sears; outfielders Ben Myers and Jimmy White; and pitcher Carlos Pena.

Infielder Will Shortreed of Lakeland Community College was also named to the team.
April 01, 2020
Erik Cassano, 216-987-3577 or erik.cassano@tri-c.edu