News 5 Story Highlights Career Opportunities at Tri-C's Truck Driving Academy
Segment focuses on Cuyahoga County program that helps parents receive training to launch stable careers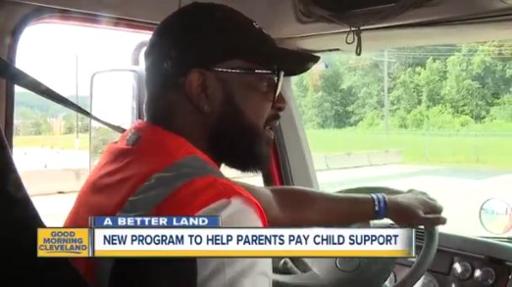 The road to a good-paying job and family stability led Mark Mitchell to the Truck Driving Academy at Cuyahoga Community College (Tri-C®).
Mitchell enrolled for the workforce training through Cuyahoga County's Families Forward program, a new initiative for parents who owe child support. The program is part of a national study. Ohio is one of four states participating.
Families Forward helps parents land jobs that allow them to meet family financial obligations and position their children for success. It offers free training for several different career tracks, including truck driving, information technology, manufacturing and customer service.
WEWS/Channel 5 recently interviewed Mitchell for a story on Families Forward. The segment — which aired July 31 — showcased his training at Tri-C's new Transportation Innovation Center in Euclid.
The training site houses the Truck Driving Academy — which has turned out nearly 1,000 graduates over the past decade — as well as programs targeting the growing supply chain and logistics industry.
August 01, 2019
John Horton, 216-987-4281 john.horton@tri-c.edu