Newest 'Tri-C Times' Celebrates Innovation and Inauguration
Spring 2023 issue looks at Ideas Festivals, hands-on experience for culinary students and more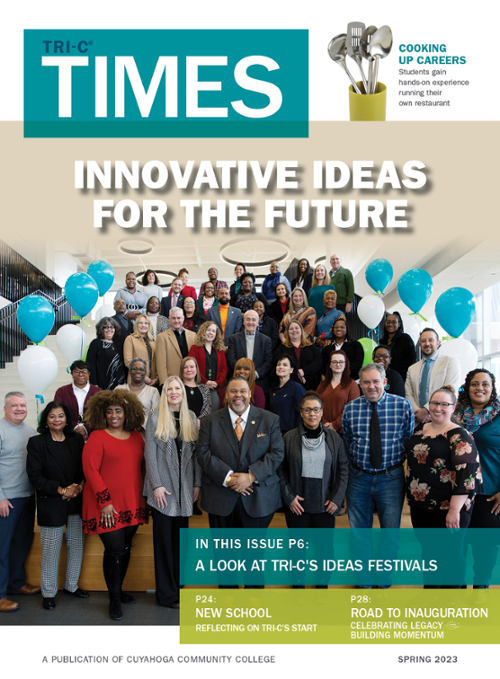 The latest issue of Tri-C Times looks at the history and future of Cuyahoga Community College (Tri-C®), Ohio's first and largest community college, as it approaches its 60th anniversary.
Meet Loren Arnoff, the first graduate in Tri-C history.
Read about a series of Ideas Festivals in which faculty, staff and students proposed innovative initiatives to address post-pandemic challenges.
Learn about Alere, a student-run restaurant that provides real-world experience for future culinary professionals.
Discover how faculty member Nancy Kraig created a vibrant new image for the Interior Design program.
Learn how the Cleveland Foundation provides access to quality arts programs for youth by supporting Tri-C's Creative Arts Academy.
Read about activities designed to celebrate the College's past, present and future leading up to Tri-C President Michael Baston's inauguration ceremony.
Tri-C Times is an award-winning publication produced by the College's Integrated Communications department. View the Spring 2023 issue and past editions.
April 12, 2023
By Anthony Moujaes, 216-987-3068 or anthony.moujaes@tri-c.edu