Michael Baston Selected for Aspen Institute's Presidents Fellowship
Tri-C president chosen for the inaugural cohort of national program of community college leaders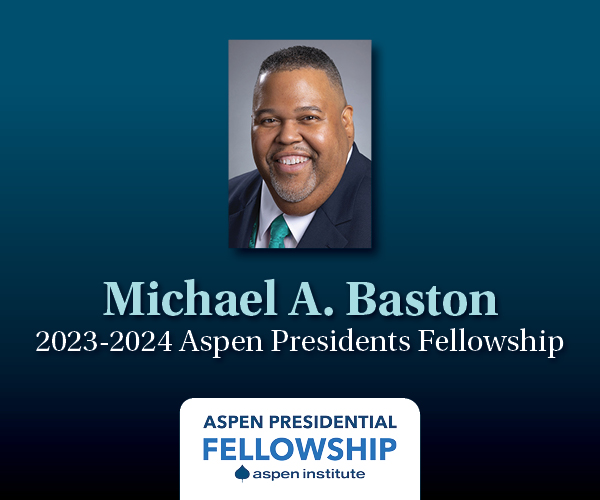 Cuyahoga Community College (Tri-C®) President Michael A. Baston has been selected for the inaugural class of the Aspen Presidents Fellowship, a program focused on developing and advancing equity in student outcomes.
Baston is one of 25 community college leaders selected through a competitive process and the only one from Ohio. The diverse cohort leads institutions across 14 states that educate more than 280,000 students. The incoming class of Presidents Fellows is 56% women and 44% people of color.
"I'm deeply honored to be part of the inaugural cohort of the Aspen Presidents Fellowship and to have the opportunity to co-develop sustainable reforms that will improve equity and student outcomes," Baston said. "Students of color and those from less-advantaged backgrounds continue to struggle to make ends meet, stay in college and earn a degree. I look forward to exchanging ideas with the dedicated leaders in this cohort to serve people most in need."
The fellows will work closely with a faculty of leading community college presidents and senior staff from the Aspen Institute for 12 months. They will compare their practices to other leading colleges, analyze their students' graduation and post-graduation outcomes, and advance their priority reforms to deliver excellent and equitable student outcomes.
"Scaled improvements in student outcomes at our nation's community colleges require excellent leadership," said Josh Wyner, executive director of the Aspen Institute's College Excellence Program. "I am continually inspired and motivated by the dedication and expertise that our fellows bring to the work of advancing excellence and equity on their campuses, and I look forward to supporting them as they improve outcomes for their students."
The Aspen Presidents Fellowship is made possible with support from JPMorgan Chase.
September 22, 2023
MEDIA CONTACT: Anthony Moujaes, 216-987-3068 or anthony.moujaes@tri-c.edu