Michael A. Baston Formally Inaugurated as Tri-C's Fifth President
Ceremony celebrates College's 60-year legacy, looks toward vibrant future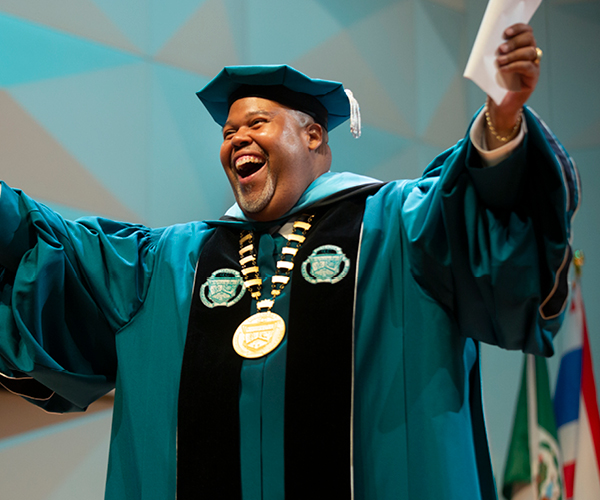 The Cuyahoga Community College (Tri-C®) Board of Trustees entrusted Michael A. Baston with the College's leadership and mission during a formal ceremony April 14. Board Chair Helen Forbes Fields installed Baston as Tri-C's fifth president at the Metropolitan Campus Auditorium in Cleveland.
Baston received the presidential medallion and academic mace before an audience of students, faculty, staff, representatives from across civic and educational institutions, and a number of his own family members.
"An inauguration is an important tradition, a time to celebrate the past and envision the future," Forbes Fields said. "Since opening the doors in 1963 as the first community college in Ohio, Tri-C has served more than 1 million individuals seeking education and training to help them build a more purposeful and prosperous life. Today, we celebrate Tri-C's proud heritage as we look to the future."
Baston joined Tri-C on July 1, 2022, immediately meeting with government, industry, business and education leaders to gather feedback about the institution.
As a candidate, Baston made three promises for his presidency: A commitment to building an effective community college, to expanding the College's reach and influence, and to properly purposed leadership. On the day of his inauguration, he added a fourth — a commitment to post-college success — that will be his focus.
"At its core, this will be the focus of my presidency — what I hope will one day be my legacy," Baston said. "Every student who comes through our doors will leave with an education and a path to a better life for themselves and their families."
More than a dozen college presidents from across the country attended the ceremony, including Cleveland State University President Laura Bloomberg. Other guests included Cleveland Mayor Justin Bibb and Randy Gardner, chancellor for the Ohio Department of Higher Education.
"In many ways, we're the new kids in school," said Bloomberg, who, like Baston, assumed office last year. "I think about facing and advancing higher education with you ready to help make access to education a civil right."
"I saw firsthand the commitment that Dr. Baston has for our community," Bibb said. "We talked about the importance of this institution as it continues to be a pathway for folks to achieve their potential and how we can disrupt workforce development to ensure underserved communities of color can build wealth in our city. Count me as a partner and a friend as we make sure that our city can be a model for America and that the American dream is alive and real in Cleveland."
"Today is a celebration of what's right about higher education in Ohio," Gardner said. "Tri-C's success is not just helpful to Northeast Ohio's and Cleveland's future — it is necessary and fundamental. I stand ready to work with you every day."
Inaugural address
Baston's address began with a celebration of Tri-C history before ending in a clear call that the work to ensure educational access and equity must continue.
 
He spoke about the College's founding in 1963 during an era of civil unrest; to its expansion in the 1970s and '80s as a "beacon of hope"; to an era of technological revolution in the 1990s and 2000s; and, finally, to its focus on access and completion during the COVID-19 pandemic.
 
Baston also acknowledged the faculty, staff and students who have contributed to the College's success through the years and pledged to honor them by "building momentum."

"We will measure our success not by numbers of students or degrees conferred, but by how much someone's life was improved by their time at Tri-C," he said.
 
To close out his remarks, Baston implored attendees to serve those most in need.
 
"Our efforts have inspired and provided hope to many," he said. "Tri-C has always been a gateway to higher education for countless individuals who may have otherwise been unable to pursue a college degree. Tri-C has made it possible for many to achieve their dreams of obtaining a college education."
 
"When we say that this College will be for everyone, this College will be for everyone."
Watch the Inauguration Ceremony highlights on the Inauguration website.
April 14, 2023
MEDIA CONTACT: Anthony Moujaes, 216-987-3068 or anthony.moujaes@tri-c.edu