Mandel Humanities Center Launches Podcast on Human Experience
Weekly episodes engage listeners in deep conversations about literature, art and more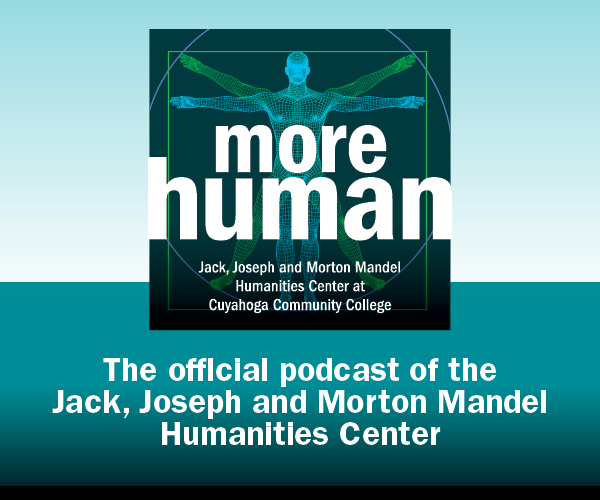 What does it mean to be human? How does race impact art? How can a person grow their appreciation of music? How can literature help people see the human experience from different viewpoints?
Those questions are the basis of discussions on More Human, the new podcast from the Jack, Joseph and Morton Mandel Humanities Center at Cuyahoga Community College (Tri-C®).
Inspired by the Socrates quote "The unexamined life is not worth living," the podcast is a vehicle for sharing conversations taking place at the Mandel Humanities Center and throughout the region.
"The Mandel Humanities Center primarily exists to enrich humanities education at Tri-C, but there is a public-facing side as well ­— to be a hub for engaging Northeast Ohioans in the humanities," said Matthew Carey Jordan, Ph.D., dean of the Mandel Humanities Center and host of More Human. "We hope that each conversation piques listeners' interest to go deeper within that topic and integrate it in a robust way."
Weekly episodes of More Human will feature conversations with students, faculty, college administrators and others interested in the humanities. Each episode will explore how engaging with literature, philosophy, history and art enables listeners to live deeper, richer, fuller and more human lives.
Future topics include citizenship, baseball and urban farming. More Human is available on Apple Podcasts, Spotify and other platforms. Learn more on the More Human webpage.
April 08, 2022
By Anthony Moujaes, 216-987-3068 or anthony.moujaes@tri-c.edu