Making a Difference: Andrea Hogben Honored for Work With Tri-C Foundation
Board member recognized with Chairperson's Award for dedicated service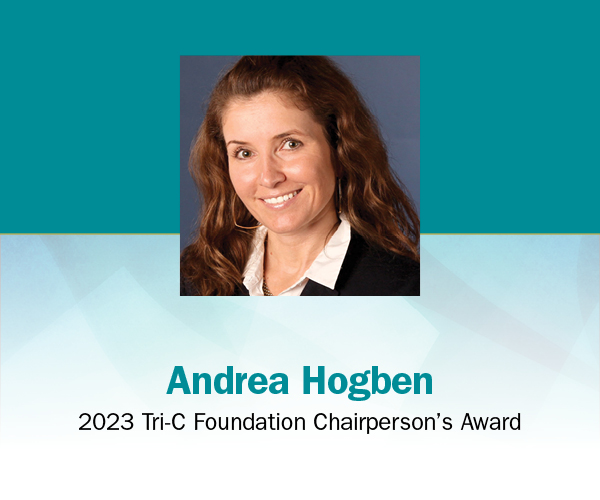 The Cuyahoga Community College (Tri-C®) Foundation presented its 2023 Chairperson's Award to Andrea Hogben for her dedicated service to the organization and its student-focused mission.
This award acknowledges someone who has made a significant difference to the Tri-C Foundation through engagement and passion for the work of Tri-C. Established in 2019, this award gives the Tri-C Foundation board chair and the College president an opportunity to recognize good works in the moment or a lifetime of outstanding contributions. The Westlake resident received the award during the Foundation's annual meeting in June.
A representative of Medical Mutual, Hogben joined the Foundation board of directors in 2021 and is an active member of its executive committee and its committee on directors. She also serves on the Skills to Succeed campaign cabinet, which exceeded its $50 million goal one year early. The campaign is helping more people in Northeast Ohio access and succeed in Tri-C's workforce training programs that lead to high-paying, in-demand jobs.
"Andrea continually goes 'above and beyond' as a board member, both personally and as a representative of Medical Mutual," said Pat Pastore, Tri-C Foundation chairperson. "She's made a transformational impact very quickly, and that is reflected in our Skills to Succeed campaign's results."
Hogben has also helped the Foundation design and support scholarships, an on-campus food pantry and wraparound services.
"Andrea truly exemplifies a student-centered perspective," said Tri-C Foundation President Megan O'Bryan. "She leads with her own personal generosity, setting a compelling example for other board members. Andrea is a thoughtful, strategic and passionate member of the board and has helped ensure that Medical Mutual is a strong philanthropic partner to Tri-C."
As Medical Mutual's executive vice president and chief marketing and communications officer, Hogben oversees media relations, social responsibility, government relations and diversity and inclusion. She also leads Medical Mutual's Specialty Products division, including MedMutual Life Insurance Company. Before joining Medical Mutual in 2016, she served as the president of the Northeast Ohio Media Group, which operated cleveland.com and Sun News.
Hogben serves on the boards of the United Way of Greater Cleveland, Rock and Roll Hall of Fame and Playhouse Square. She was the co-chair of the marketing and content committee for the Republican National Convention host committee. Crain's Cleveland Business named her a 2013 Newsmaker and listed her in its 2014 Power 150.
July 13, 2023
MEDIA CONTACT: Anthony Moujaes, 216-987-3068 or anthony.moujaes@tri-c.edu