Lviv Philharmonic Orchestra of Ukraine to Perform at Tri-C Classical Piano Series
Tickets on sale for Feb. 23 performance at Metro Campus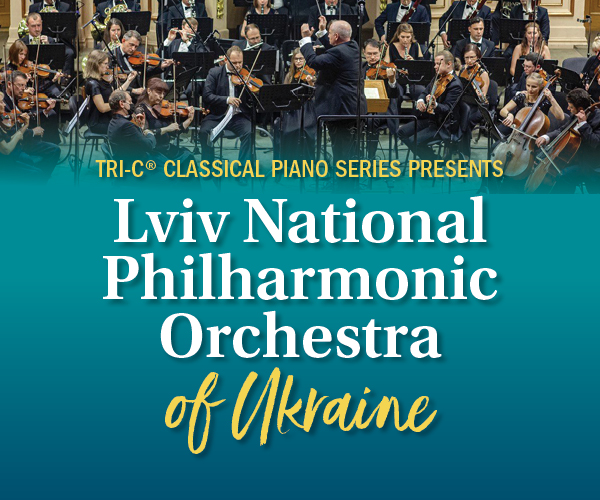 The sounds of one of Europe's oldest orchestras will resonate in Northeast Ohio next month when the Lviv National Philharmonic Orchestra of Ukraine performs at the Metro Campus of Cuyahoga Community College (Tri-C®). The performance is part of the Classical Piano Series at Tri-C.
 
Under the direction of Ukrainian-American conductor and Cleveland native Theodore Kuchar, the orchestra takes the stage at 7 p.m. Feb. 23 at the Metro Campus Auditorium. The performance comes on the eve of the one-year anniversary of Russia's full-scale invasion into Ukraine.
 
The performance will feature pianists Emanuela Friscioni, director of Tri-C's Classical Piano Series, and Antonio Pompa-Baldi, first prize winner of the 1999 Cleveland International Piano Competition, and silver medalist at the 2001 Van Cliburn International Piano Competition. Beloved Cleveland Pops Maestro Carl Topilow will also feature as guest conductor for one of the numbers.
 
"We appreciate the opportunity to host the Lviv National Philharmonic and to raise awareness of the tragic conflict that has unfolded in Ukraine in the past year," said Friscioni. "Maestro Kuchar is internationally renowned and to welcome him home for this performance, as well as the orchestra, promises to be a truly special night."
 
Kuchar graduated from The Cleveland Institute of Music, and in the past two decades has been part of annual residencies at The Cleveland Institute of Music, the Simon Bolivar Youth Orchestra, the Canberra School of Music at the Australian National University, the Czech National Academy of Music, the National Academy of Music in Kiev, the Sibelius Academy in Helsinki and more. He established himself as a leading conductor the world over and is one of the most prolific recording artists of all time.
 
Based in the medieval city of Lviv and first established in 1902, the Lviv National Philharmonic Orchestra of Ukraine regularly participates in international festivals ― in particular, the International Festival of Musical Art "Virtuosos," the International Festival of Contemporary Music "Contrasts", the Ukrainian-Polish Festival "Discovering Paderewski" and others.
 
The orchestra has toured several countries, including Poland, Italy, Spain, France, Switzerland, Germany, the Netherlands, Argentina and China. This marks their first tour of the United States since 2017.
Tickets for this special event start at $20. Seating is reserved by section only. Tickets can be purchased at lvivnationalphilharmonic.eventbrite.com. Free, secure underground parking is available in Lot 5 off Woodland Avenue near E. 30th Street.
 
The Tri-C Classic Piano Series celebrates its 17th year of introducing emerging and established pianists from all over the world to the Greater Cleveland community. Learn more on the Tri-C Performing Arts web page.
January 11, 2023
MEDIA CONTACT: Anthony Moujaes, 216-987-3068 or anthony.moujaes@tri-c.edu