Lineup Announced for Tri-C JazzFest
Ten acts to perform at the 42nd annual festival Sept. 11 and 12 at Cain Park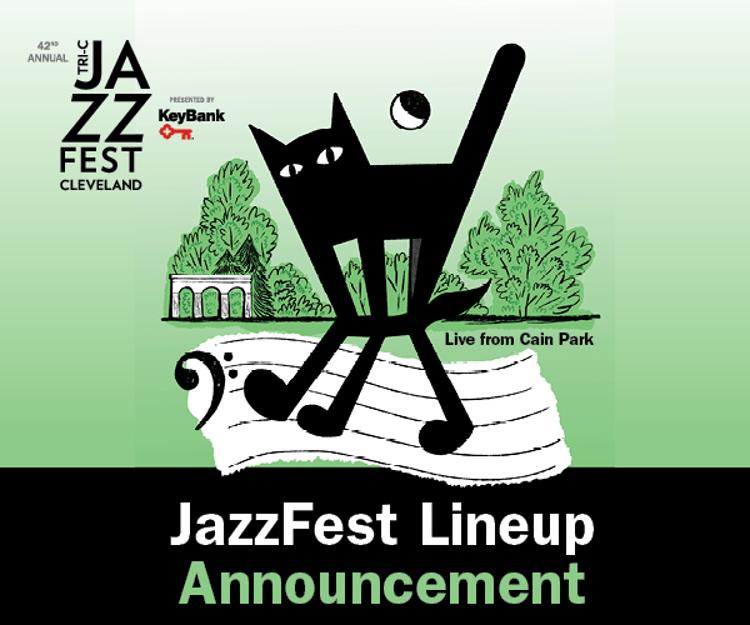 Cuyahoga Community College (Tri-C®) has announced an eclectic lineup of artists performing at the 42nd annual Tri-C JazzFest Cleveland, presented by KeyBank.

The two-day outdoor festival features 10 acts in Cain Park's covered Evans Amphitheater, with a lineup that celebrates both the roots of jazz and the forward-thinkers in the genre today.

"We wanted to celebrate the fact that we all made it through a difficult year by presenting a fun and diverse lineup," said Terri Pontremoli, festival director. "I guarantee the audience will be really excited by the performances and will remember them for a very long time."

Festival highlights include an energetic, world-infused performance by Banda Magda; extraordinary piano trios led by Christian Sands and Emmet Cohen; vocalists ranging from a 21-year-old recent Sarah Vaughan Competition winner to veteran Grammy Award-winning vocalist Catherine Russell; three thrilling horn players; and the explosive salsa of the Spanish Harlem Orchestra.

"As presenting sponsor of the 42nd annual Tri-C JazzFest, KeyBank is thrilled to be a part of the return of in-person events," said Timothy M. Burke, Northeast Ohio president for KeyBank. "There is nothing like live music to bring communities together, and we are proud to be a part of this celebration."

Here is the festival lineup, with show dates and times. Passes, sold by day, will be available through Ticketmaster starting June 10:

Saturday, Sept. 11

Samara Joy – 3:30 p.m.
With a voice as smooth as velvet, 21-year-old Samara Joy's star seems to rise with each performance. Winner of the 2019 Sarah Vaughan International Jazz Vocal Competition, Joy is currently recording her debut record featuring the Pasquale Grasso Trio.

Lakecia Benjamin and Pursuance – 4:45 p.m.
A charismatic and dynamic saxophonist and bandleader, Lakecia Benjamin fuses traditional conceptions of jazz, hip-hop and soul. Her latest album, Pursuance, was chosen as one of the Top 20 best albums of 2020. It's an intergenerational masterpiece that takes one on a journey through the lineage of music with the works of John and Alice Coltrane.

Christian Sands Trio – 6:15 p.m.
Steinway artist and five-time Grammy nominee Christian Sands is an emerging jazz force. His abundant piano technique perfectly matches his conception, accomplishing a much deeper musical goal: a fresh look at the entire language of jazz. 

A Moment in Cleveland – 7:45 p.m.
The performance of A Moment in Cleveland will be an intergenerational celebration of Cleveland jazz talent featuring Dominick Farinacci, Ernie Krivda and more.

Spanish Harlem Orchestra – 9:15 p.m.
Three-time Grammy-winning salsa and Latin jazz band Spanish Harlem Orchestra sets the gold standard for excellence in authentic, New York-style hardcore salsa. Whether in a concert hall or at an outdoor jazz festival, there is no easing you in — they come at you full force, from start to finish.

Sunday, Sept. 12

Marquis Hill – 2 p.m.
Internationally renowned trumpeter, composer and bandleader Marquis Hill constantly breaks down the barriers that divide musical genres. To Hill, contemporary and classic jazz, hip-hop, R&B, Chicago house and neo-soul are all essential parts of his African American creative heritage.

Bria Skonberg – 3:30 p.m.
Trumpeter, vocalist and songwriter Bria Skonberg has performed festivals and stages all over the world, from New Orleans to Montreal. She is known for her smoky vocals, unique arrangements and blistering trumpet solos. Her 2016 debut LP won a Canadian JUNO award and made the Top 5 on Billboard jazz charts.

Emmet Cohen Trio – 5 p.m.
30-year-old jazz pianist and composer Emmet Cohen has emerged as one of his generation's pivotal figures in music. With the command of a seasoned veteran, the vibrant solo performer leads the Emmet Cohen Trio and is in constant demand as a sideman.

Catherine Russell – 6:30 p.m.
Jazz vocalist Catherine Russell's musical resume includes six chart-topping albums and a Grammy as a featured artist on the Boardwalk Empire soundtrack. She has toured the world, performing and recording with David Bowie, Cyndi Lauper, Paul Simon, Steely Dan, Michael Feinstein and Wynton Marsalis, among others. Her interpretations of gems from the 1920s to the present burst with soul and humor.

Banda Magda – 8 p.m.
Led by firecracker performer, composer and multi-instrumentalist Magda Giannikou, Banda Magda is a world music collective that merges the acoustic folk elements of Brazilian music with the lush romanticism of French music, a little bossa nova and a nod to Columbian and Mexican music. The result is something that is laid back, relaxed, intimate and spicy at the same time.

Schedule is subject to change. For more information about the artists and passes, visit tri-cjazzfest.com.

Traditionally held at Playhouse Square each summer, JazzFest features ticketed shows with top jazz acts and free outdoor performances highlighting local talent. Over the past four decades, the festival has become a cherished tradition for tens of thousands of music lovers.

Tri-C JazzFest Cleveland is made possible by Cuyahoga Community College, KeyBank, the National Endowment for the Arts, the Ohio Arts Council, The George Gund Foundation and a growing list of donors and vendors. Cain Park is owned and operated by the City of Cleveland Heights.
June 01, 2021
Erik Cassano, 216-987-3577 erik.cassano@tri-c.edu