Lineup Announced for 44th Annual Tri-C JazzFest
A diverse artist roster brings exciting music to Cleveland, June 22-24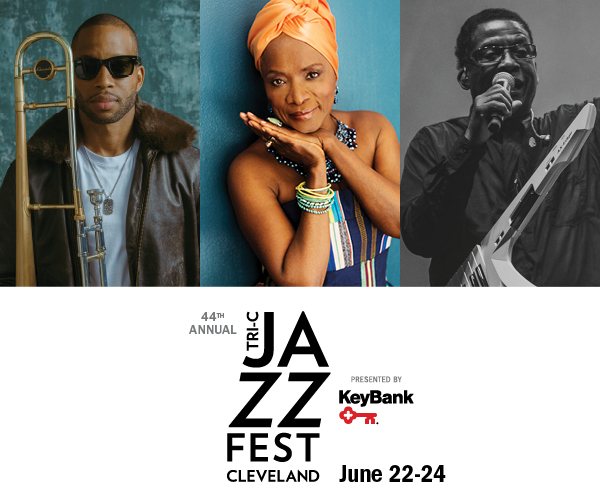 Cuyahoga Community College (Tri-C®) has announced the lineup for the 44th annual Tri-C JazzFest Cleveland, presented by KeyBank, June 22-24 at Playhouse Square.
This year's festival features eight concerts inside Playhouse Square's historic venues and showcases an eclectic series, including the 2023 Grammy winner for Best New Artist; arguably, the best New Orleans-style party band on the scene; a legendary American jazz icon; and one of today's greatest artists in international music.
The diverse lineup brings our fans the world, with artists from Africa to New Orleans, said Terri Pontremoli, director of JazzFest.
"We're thrilled to present a wide range of artistry from the iconic Herbie Hancock to the newly emerging Grammy-winner Samara Joy," Pontremoli said. "In addition to the rich and varied lineup indoors, we'll have an engaging scene of free music and activities outside on the plaza at Playhouse Square."
Here is the indoor concert schedule, with showtimes and locations:
Thursday, June 22
Angélique Kidjo/ Richard Bona Presents ASANTE Trio Featuring Osmany Paredes (Piano) and ÍIario Bell (Drums) — 7:30 p.m., Mimi Ohio Theatre 
Opening the festival is five-time Grammy winner Angélique Kidjo with special guest Cameroon-born bassist Richard Bona. Known as "Africa's premier diva," Kidjo was named one of 2021's 100 Most Influential People by TIME magazine for her striking voice, stage presence and fluency in multiple cultures and languages.
Friday, June 23
Christian McBride/Samara Joy — 5:30 p.m., Mimi Ohio Theatre 
Jazz innovator Christian McBride — the most in-demand bassist of his generation — is a luminary with one hand ever reaching for new heights and the other extended in fellowship. He got his start in 1989 when he was recruited by saxophonist Bobby Watson. His staggering body of work and gift for storytelling help bridge the gap between artist, music and audience. Samara Joy, a 2021 JazzFest performer and 2023 Grammy winner for Best New Artist, opens the show. This breakthrough vocalist is introducing jazz to a whole new generation.
Gerald Albright — 8 p.m., Connor Palace
Grammy-nominated jazz artist Gerald Albright has established himself as the consummate session and touring musician on both saxophone and bass. The Los Angeles native has worked with many big names in music and appeared on television programs such as A Different World and numerous jazz segments for Black Entertainment Television.
Dan Wilson: 7 Decades of Wonder: The Genius of Stevie featuring Jennifer Hartswick — 10 p.m., Allen Theatre
Grammy-nominated guitarist and Akron native Dan Wilson attributes his artistry to Wes Montgomery, Charlie Christian, Joe Pass and George Benson. He played with the late Joey DeFrancesco for several years before meeting bassist Christian McBride and touring with his Tip City Trio. Trumpeter and vocalist Jennifer Hartswick will join Wilson for a tribute to legend Stevie Wonder.
Saturday, June 24
Dominick Farinacci and Triad/Braxton Cook — 2:30 p.m., Allen Theatre
Trumpeter and Cleveland Arts Prize recipient Dominick Farinacci is an alumnus of The Juilliard School's first jazz program and, at age 17, opened for Wynton Marsalis at Tri-C JazzFest. Farinacci's newest group, Triad — created with Christian Tamburr and Michael Ward-Bergeman — weaves together the diverse musical realms of jazz, blues, orchestral and world music. Braxton Cook, 2023 JazzFest Artist-in-Residence, will open the show. This uniquely talented alto saxophonist and vocalist blends jazz, soul and alternative R&B into a sound all his own.
Herbie Hancock — 7 p.m., Mimi Ohio Theatre 
Now in the sixth decade of his professional life, Herbie Hancock remains where he has always been: at the forefront of world culture, technology, business and music. A legendary pianist, composer and jazz icon, he has been an integral part of every popular music movement since the 1960s. A member of the groundbreaking Miles Davis Quintet, Hancock developed new approaches on his own recordings as well. His record-breaking 1973 album Headhunters combines electric jazz with funk and rock in an innovative style that continues to influence contemporary music today.
Trombone Shorty & Orleans Avenue — 9:30 p.m., Connor Palace 
Born Troy Andrews, Trombone Shorty got his start earlier than most. At 4, he performed with Bo Diddley. At 6, he led his own brass band. As a teen, he toured with Lenny Kravitz. A natural-born showman, he's performed at the Grammys, at the White House and on dozens of TV shows. He's released four chart-topping studio albums, toured with everyone from Jeff Beck to the Red Hot Chili Peppers, collaborated with musical icons across genres and played nearly every major festival from Coachella to Newport Jazz. At home in New Orleans, Shorty leads his own Mardi Gras parade, hosts the annual Voodoo Threauxdown and closes out the city's internationally renowned Jazz & Heritage Festival.
Steve Smith and Vital Information — 10 p.m., Allen Theatre  
Vital Information is a jazz fusion group led by critically acclaimed drummer Steve Smith. He has toured and recorded with some of the biggest names in jazz and rock including Journey, Bryan Adams, Mariah Carey, Zucchero and Jean-Luc Ponty. Modern Drummer magazine named him one of their Top 25 Drummers of All Time in 2001. Vital Information celebrates its 40th anniversary this year.
Festival passes — which offer VIP seating to all nine ticketed concerts, plus other perks — are on sale for $250. Visit www.tri-c.edu/festivalpass to purchase a pass.
Individual tickets go on sale in April through the Playhouse Square box office.
The 2023 JazzFest also includes free outdoor concerts on the plaza at Playhouse Square from 3 p.m. to midnight Friday and Saturday of the festival weekend. The popular performances feature local and regional talent selected by a jury of music industry experts.
The festival draws tens of thousands of people downtown for the three-day experience. For a full roster of Tri-C JazzFest events — including free community concerts in the months leading up to the festival — visit tri-cjazzfest.com.
Tri-C JazzFest Cleveland, presented by KeyBank, is made possible by KeyBank, The George Gund Foundation, the Ohio Arts Council, the National Endowment for the Arts, The William M. Weiss Foundation and a growing list of donors and vendors.
February 15, 2023
MEDIA CONTACT: Anthony Moujaes, 216-987-3068 or anthony.moujaes@tri-c.edu