Lineup Announced for 43rd Annual Tri-C JazzFest
Festival comes home to Playhouse Square June 23-25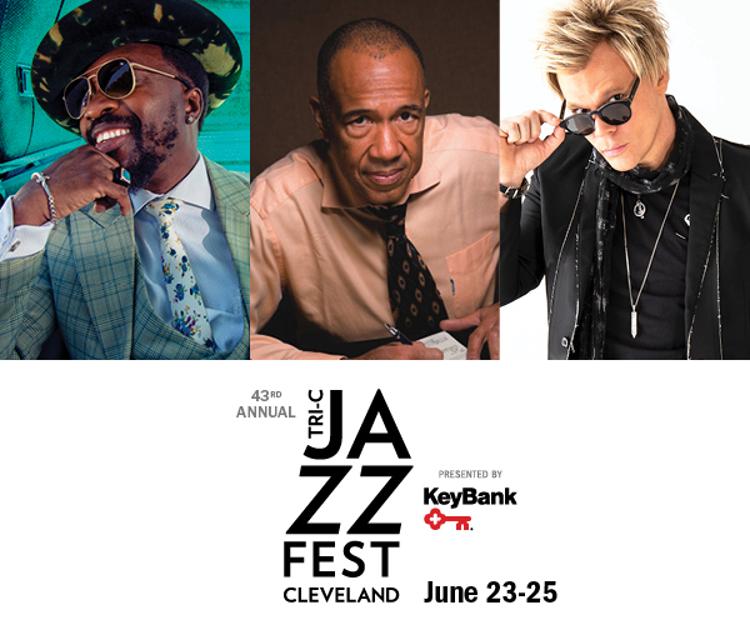 Cuyahoga Community College (Tri-C®) has announced the lineup for the 43rd annual Tri-C JazzFest Cleveland, presented by KeyBank, June 23-25 at Playhouse Square.
The homecoming festival features eight ticketed concerts in Playhouse Square's historic theatres, with a special opening night concert — dedicated to retiring Tri-C President Alex Johnson — featuring Anthony Hamilton at Cleveland Public Auditorium's Music Hall.
Festival highlights include homecoming concerts by native Clevelanders Joe Lovano and Sean Jones in addition to performances by vocalist Cyrille Aimée and legendary pianist Eddie Palmieri.
"We're looking forward to bringing jazz artists we haven't seen for several years back to Playhouse Square," said Terri Pontremoli, festival director. "Truth is, we've missed them and their music."
Here is the concert lineup, with showtimes and locations:
Thursday, June 23
Anthony Hamilton — 8 p.m., Music Hall, Cleveland Public Auditorium
Anthony Hamilton's natural talent — rich, soul-steeped vocals breathing sonorous life into emotion-packed lyrics — has earned him a reputation as an "artist's artist." He's collaborated with Dr. Dre, Keyshia Cole, Josh Turner, Santana and John Rich, to name a few. This opening night concert is dedicated to Cuyahoga Community College President Alex Johnson as he retires at the end of June.
Friday, June 24
Sean Jones Quartet — 5 p.m., Allen Theatre, Playhouse Square
Music and spirituality have always been fully intertwined in the artistic vision of trumpeter, bandleader, composer, educator and activist Sean Jones. Growing up in Warren, Ohio, Jones performed with the church choir at an early age and began playing trumpet at age 10.
 
Joe Lovano and Dave Douglas: Sound Prints — 6:30 p.m., Mimi Ohio Theatre, Playhouse Square
Saxophonist Joe Lovano and trumpeter Dave Douglas are masters of their respective instruments within the pantheon of modern jazz. They've shown that their distinct and robust voices can lead, blend and push the idiom forward — both in composition and improvisation — while embracing previous generations' frontline masters.
Brian Culbertson — 8 p.m., Connor Palace, Playhouse Square
Multi-instrumentalist, songwriter and producer Brian Culbertson has charted his own unique course in music. Label his work as jazz, and he'll make a funk record. Call him an R&B artist, and he'll drop an acoustic jazz trio collection. Regardless, you'd be hard-pressed to name another instrumentalist of his ilk capable of mounting such an elaborately designed concert production.
Ghost-Note — 9:30 p.m., Mimi Ohio Theatre, Playhouse Square
With an expansive roster of next-level musicians, Ghost-Note pushes funk music into the future — building on the uplifting, pioneering foundations laid out by the likes of James Brown and Sly & The Family Stone and infusing their fresh take with tastes of afrobeat, hip-hop, psychedelia, world folklore and more.
Saturday, June 25
Cyrille Aimée/Dominick Farinacci — 2 p.m., Mimi Ohio Theatre
Acclaimed French vocalist Cyrille Aimée graduated from singing on European street corners to dazzling audiences at the world's most prestigious jazz festivals. The New York Times called her a "rising star in the galaxy of jazz singers." Opening is trumpeter Dominick Farinacci performing his new project Dominick Farinacci and Triad.
Raul Midón — 4:30 p.m., Allen Theatre
Along with releasing 10 studio albums as a solo artist, guitarist Raul Midón — dubbed "an eclectic adventurist" by People magazine — has collaborated with such heroes as Herbie Hancock, Stevie Wonder and Bill Withers, along with contributing to recordings by Queen Latifah, Snoop Dogg and the soundtrack to Spike Lee's She Hate Me.
Eddie Palmieri — 6:15 p.m., Mimi Ohio Theatre
Known as one of the finest pianists of the past 60 years, Eddie Palmieri is a bandleader, arranger and composer of salsa and Latin jazz. His playing skillfully fuses the rhythm of his Puerto Rican heritage with the complexity of his jazz influences: Thelonious Monk, Herbie Hancock, McCoy Tyner and his older brother, Charlie. Palmieri's professional career took off in the early 1950s with popular orchestras led by Eddie Forrester, Johnny Segui, Tito Rodriguez and others.
Tri-C JazzFest All-Star Big Band Under the Direction of John Clayton featuring John Pizzarelli — 8:15 p.m., Connor Palace
Bassist, composer, arranger and producer John Clayton has performed alongside artists such as Diana Krall, Paul McCartney, Regina Carter, Dee Dee Bridgewater and Gladys Knight. Performing with Clayton and his band is world-renowned guitarist and singer John Pizzarelli. A prime contemporary interpreter of the Great American Songbook and beyond, his repertoire includes Joni Mitchell, Neil Young, Tom Waits, Antônio Carlos Jobim and the Beatles. Pianist Kenny Werner and Gregoire Maret will open the concert with a centennial tribute to Toots Thielemans.
Festival passes — which offer VIP seating to all nine ticketed concerts, plus other perks — are on sale for $250. Visit jazzfest2022festivalpass.eventbrite.com to purchase a pass.
Individual tickets go on sale April 15 through the Playhouse Square box office.
The 2022 JazzFest also includes free outdoor concerts on the plaza at Playhouse Square from 3 p.m. to midnight Friday and Saturday of festival weekend. The popular performances feature local and regional talent selected by a jury of music industry experts.
The festival draws tens of thousands of people downtown for the three-day experience. For a full roster of Tri-C JazzFest events — including free community concerts in the months leading up to the festival — visit tri-cjazzfest.com.
Tri-C JazzFest Cleveland is made possible by Cuyahoga Community College, KeyBank, the National Endowment for the Arts, the Ohio Arts Council, The George Gund Foundation and a growing list of donors and vendors.
March 15, 2022
By Anthony Moujaes, 216-987-3068 or anthony.moujaes@tri-c.edu