Latest Tri-C Times Highlights New Leadership
Fall 2022 issue features President Michael Baston's first 100 days, new campus presidents and more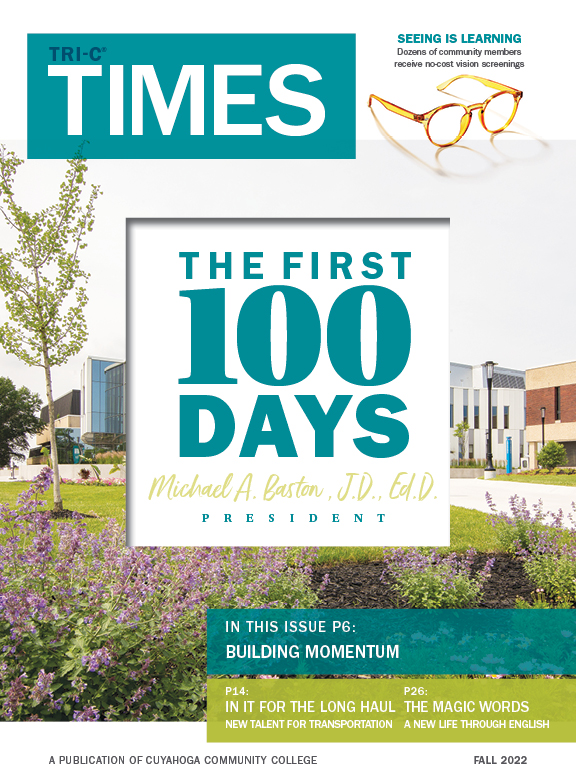 From new leaders to innovative faculty members and programs, the Fall 2022 issue of Tri-C Times highlights a year of trailblazing at Cuyahoga Community College. 
 
Learn about President Michael Baston's first 100 days of listening, learning and engagement and how they helped shape his plans to further the College's mission. 
 
Follow the journeys that led Todd Kitchen and Scott Latiolais to the helms of the Eastern and Westshore campuses. 
 
Embark on an adventure with Anass El Bekkari, who came to Cleveland from Morocco to earn several degrees and ultimately land a Foreign Affairs Information Technology Fellowship with the U.S Department of State.  
 
Read about ESL faculty coordinator Sara Clark, who extended her work beyond the classroom this year to help Ukrainian refugees gain a foothold in Northeast Ohio. 
 
Learn how the College's Transportation Innovation Center in Euclid is growing partnerships and infrastructure to help address the nationwide shortage of transportation and logistics professionals.  
 
Discover the new biweekly podcast from Matthew Jordan, dean of the Jack, Joseph and Morton Mandel Humanities Center, which explores the role of literature, philosophy, history and art in the humanities.  
 
You'll also read about the Cuyahoga Community College Foundation's 2022 Presidential Scholarship Luncheon, headlined by Emmy-winning actor and producer Patricia Heaton.  
 
Tri-C Times is an award-winning publication produced by the College's Integrated Communications department. View the Fall 2022 issue and past editions.
January 10, 2023
MEDIA CONTACT: Anthony Moujaes, 216-987-3068 or anthony.moujaes@tri-c.edu