L.A. Gallery Features Work of Tri-C Photography Instructor
Joseph Minek's unconventional monoprints now on display at Von Lintel Gallery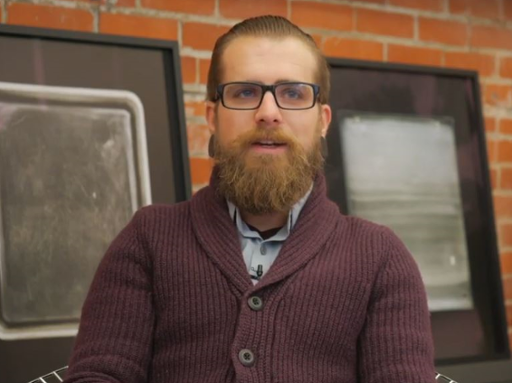 The latest exhibit at a California gallery that showcases boundary-pushing artists features the unconventional work of Cuyahoga Community College (Tri-C®) photography instructor Joseph Minek. 
Chemistry and Light brings together the work of Minek and another artist, Chuck Kelton, who practice versions of camera-free photography. The show runs through May 8 at the Von Lintel Gallery in Los Angeles. 
The artists eschewed the fundamental conventions of both camera and film while creating their works. Instead, they worked directly with the raw materials of darkroom practice — paper, chemicals, lightbulbs — to generate unique monoprints. 
"Their energetic works carry resonance with abstract painting and natural phenomena," according to the gallery. 
Minek has taught photography and digital imaging at Tri-C since 2013. His work has been exhibited consistently for more than a decade, appearing at the Cleveland Museum of Art and in a variety of other public collections. 
Visit Minek's website for videos on his artistic work and vision. Click here for more information on the show at Von Lintel Gallery. 
April 01, 2021
John Horton, 216-987-4281 john.horton@tri-c.edu