Julieann Chambers Named Student Veteran of the Year
Grad and current employee active in Tri-C's veteran services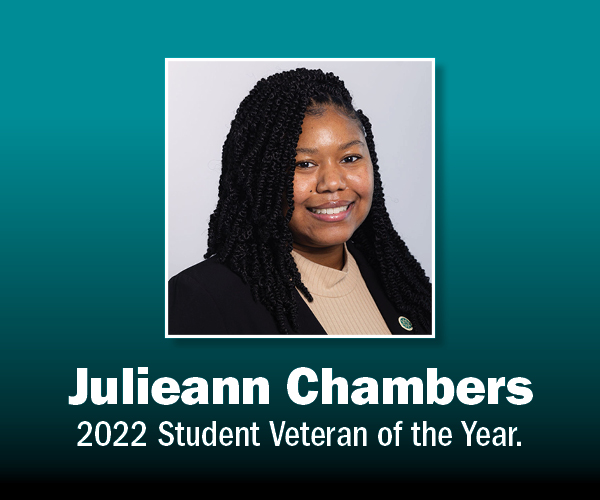 A long and winding road led Julieann Chambers to her degree from Cuyahoga Community College (Tri-C®) in 2021 — and now the 2022 Tri-C Student Veteran of the Year award.
"Winning this award means my work over the years as a service member and a student is being recognized, which is a big accomplishment," Chambers said.
The former Marine will be recognized during a Veterans Day ceremony at Cleveland City Hall on Friday Nov. 11, capping a decade-long journey.
Chambers first gave Tri-C a whirl after graduating high school in 2011, but things didn't click.
 
"I always had the mentality that I wasn't cut out for school," said Chambers, 29. "And so, essentially, I dropped out. But when I came back home from the Marine Corps, I gave it another try and I really enjoyed it."
Chambers and her best friend got the idea to join the military in 2015.
"At the time, we were just 21, 22 years old, and weren't really sure what direction our lives would go," Chambers said. "And we just came up with the idea. 'Let's just join the military, because why not?' We were carefree 20-year-olds, but we made that decision and we stuck to it."
Boot camp at Parris Island gave the Cleveland native her first taste of the broad culture the military offers.
"You get so many people – not only from all over the country, but seriously, all over the world," she said. "You're just bonding with people that you never thought you would have so much in common with."
Chambers started her four-year military career as a postal clerk at Marine Corps Base Camp Lejeune in North Carolina. After two and a half years, she was sent overseas.
Crossing the ocean would expose her to two distinct ways of life — and new food. She discovered she liked guacamole during her six-month stint at Morón Air Base in Spain. Moving along to her favorite assignment, Camp Fuji in Japan, she became fascinated by Japanese society and spent a few hours climbing Mount Fuji.
After a year in Japan, Chambers headed home and decided to give Tri-C another shot. The second go-around was the charm.
A random stop at the Alfred Lerner Veterans Services Center got the ball rolling. Chambers credits Tri-C's veteran services for her academic success. She served as a work-study student for Tri-C's Veterans and Military Connected Services at the Eastern Campus.
"I was able to meet other veterans and help them on their way, too," she said. "The veteran centers around Tri-C are very helpful."
Chambers earned her Associate of Arts degree in 2021, and after graduation, she joined the Veteran and Military Connected Services team as a program assistant.
She now works at Tri-C's Hospitality Management Center of Excellence as a unit operations specialist, helping students with enrollment and connecting them with the right departments, such as financial aid or veteran services.
"I would say the best part of my job is the interaction with the students," Chambers said. "I also send out a job posting every Friday to all the students and the alumni, going back two years. Maybe I'm a nerd, but I think it's really cool that they utilize that job board, and they do receive employment for reaching out to that contact person and doing the interview process, helping them further their career while they're still in school."
Passionate about finances, Chambers plans to continue her education at a four-year university in a year or so, pursuing a bachelor's degree in business administration.
She is also the co-chair of the new Women Veterans Network (WoVeN) group in Northeast Ohio.
"I think Tri-C was the perfect place to start my academic journey because I did not have a four-year college experience after high school, and I did not want to become overwhelmed and unsuccessful with the learning environment," she said.
November 09, 2022
By Noelle Bye, 216-987-4747 or Noelle Bye