Jazz Talk Tent Schedule Announced for JazzFest
Musicians, radio hosts and more to discuss various topics Sept. 11-12 at Cain Park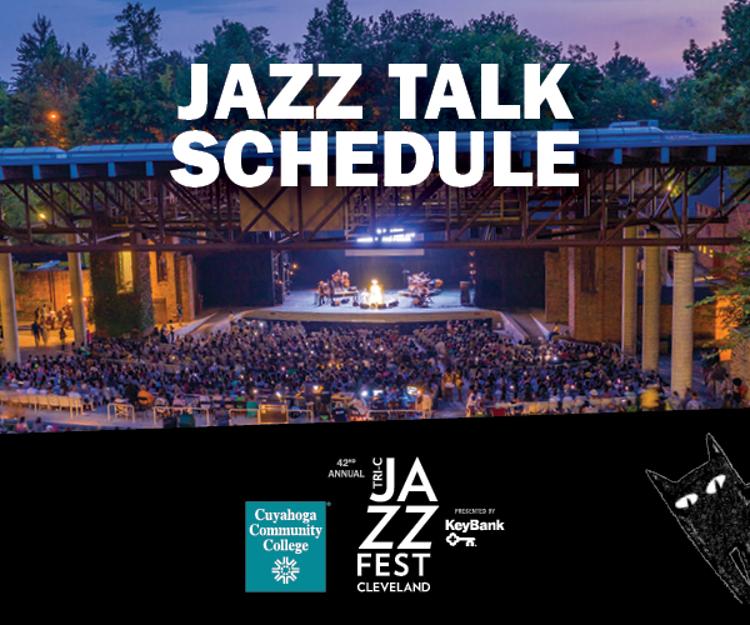 Each year, Tri-C JazzFest Cleveland hosts enlightening conversations and interviews with artists on topics relevant to the jazz world. The dialogue will continue at the 42nd annual festival, presented by KeyBank Sept. 11-12 at Cain Park in Cleveland Heights.

Conversations will take place throughout the festival in the Jazz Talk Tent, featuring artists, radio hosts, a producer, a writer and a historian.

"Because we take our educational mission seriously, these offerings are important to us," said Terri Pontremoli, director of Tri-C JazzFest. "They're always interesting, but they're fun, too."

Below is a schedule of talks, listed by date and time:

Sept. 11

Jazz Heights! | 4:15 p.m.
Jazz historian Joe Mosbrook and producer Jim Wadsworth discuss Nighttown and the rich legacy of Cleveland Heights jazz clubs and musicians.

The Roots of Latin Jazz | 7:15 p.m.
Radio host Tony Vasquez and musician Mitch Frohman (Spanish Harlem Orchestra) talk about the Cuba/Puerto Rico/New York Latin jazz lineage.

The Ballad of Tommy LiPuma | 8:45 p.m.
Mark Ribbins interviews author/musician Ben Sidran about his recent biography of beloved record producer Tommy LiPuma. Books will be available for purchase and signing. 

Sept. 12
The Ballad of Tommy LiPuma | 3 p.m.
Radio host Jack Marchbanks interviews Sidran about his LiPuma biography. Books will be available for purchase and signing.

Back to Max: Jazz and Social Awareness | 4:30 p.m.
Marchbanks talks with drummer Jerome Jennings about his recordings centered on social issues and reflects on We Insist! Max Roach's Freedom Now Suite.

Pandemonia: What I Did During Lockdown | 7:30 p.m.
Dan Polletta hosts a discussion with Emmet Cohen and Dominick Farinacci about playing music in 2020, sans live audiences.

The festival will also feature performances by Tri-C JazzFest Academy students in the Strassman Insurance Services Colonnade between main stage sets. Student bands will perform beginning at 4:15 p.m. Sept. 11 and 3 p.m. Sept. 12.  

Food trucks, vendors and street performers add to the daily fun. A Kids Club, sponsored by U.S. Bank and free to the public, will feature live music, dancing, balloons and music-related crafts from noon to 3 p.m. Sept. 11 in the Cain Park playground area.

The 2021 lineup is a music lover's delight. The young and diverse lineup includes Lakecia Benjamin, Emmet Cohen, Bria Skonberg, Catherine Russell, Spanish Harlem Orchestra and many others. Visit tri-cjazzfest.com for the full lineup and schedules. All schedules are subject to change.

Passes, sold by the day, are available through ticketmaster.com or by calling 216-371-3000. Reserved passes are tiered, available for $50, $65, $75 and $100. Lawn seating is $35.

Tri-C JazzFest Cleveland is made possible by Cuyahoga Community College, KeyBank, the National Endowment for the Arts, the Ohio Arts Council, The George Gund Foundation, Strassman Insurance Services Inc. and a growing list of donors and vendors. Cain Park is owned and operated by the City of Cleveland Heights.
August 20, 2021
Erik Cassano, 216-987-3577 or erik.cassano@tri-c.edu