High School Senior, Tri-C Grad Allen Barkley featured on WKYC
Warrensville Heights and College Credit Plus student headed to Kent State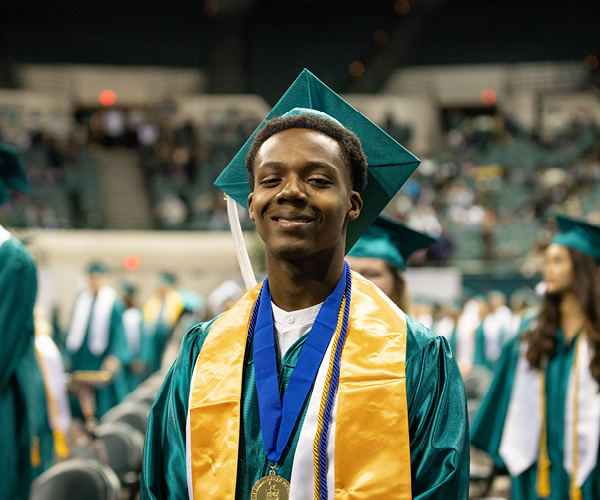 Allen Barkley earned an Associate of Arts degree from Cuyahoga Community College (Tri-C®) in December — before he'll receive his high school diploma in 2023.
The Warrensville Heights High School basketball player started taking courses through Tri-C's College Credit Plus (CCP) program in 2018 at his mother's urging.
"The sole reason I attended Tri-C was my mom foreseeing a promising academic career," said Barkley, who graduated from the College on Dec. 15. "She knew that I would excel in my studies and had me take the placement test."
Barkley told WKYC that keeping up with college-level coursework has been demanding, but he already has a head start on college credits from Tri-C that he can transfer to a four-year university.
"I'll be graduating in May from Warrensville, and I'll be taking my Associate of Arts and high school degree and going to Kent State," he said. 
 
CCP allows students in grades 7-12 to earn college credit at no cost — a significant savings toward a college degree or certification.  
 
"These are conversations that, I think, parents and school administrators should have with the student to make sure they're socially and academically prepared to be in a college environment," said Heidi Nicholas, director of enrollment management and operations at Tri-C.  
 
Read the story on the WKYC website. 
January 17, 2023
By Anthony Moujaes, 216-987-3068 or anthony.moujaes@tri-c.edu