Health Industry Solutions Receives Grant for Community Health Worker Program
Health Industry Solutions partners with local institutions to support more training, scholarships for new and current community health workers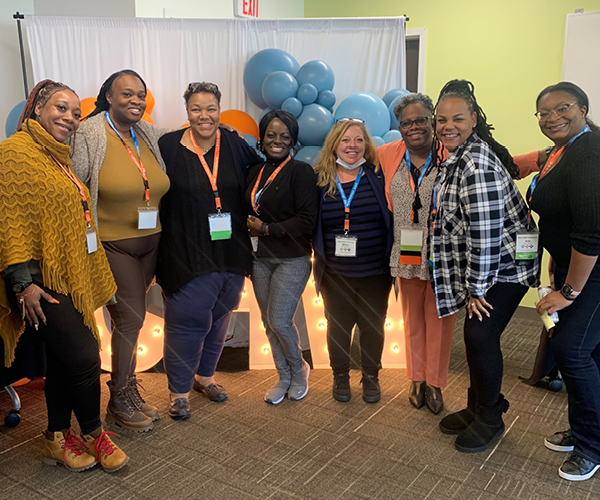 The COVID-19 pandemic threw a spotlight on a 75-year-old industry that has largely flown under the radar.
Cuyahoga Community College (Tri-C®) is one of many institutions offering certification in the field of community health. Community health workers, or CHWs, have long fought for equity on the front lines, acting as liaisons between health care providers and members of marginalized communities.
But until the media started using terms like "contact tracers" during the pandemic, few knew what exactly CHWs do — and contact tracing is just one task they perform, according to Marquita Rockamore, director of the Center for Health Industry Solutions at Tri-C's Corporate College®.
CHWs primarily help patients navigate the nuances of health care services and advocate on their behalf.
"Much of what causes people not to want to engage or follow through is based on lack of resources or how they've been treated or not seen and not heard when they do engage with health care systems and providers," Rockamore said. "It causes them to not trust."
Thanks to a new $3 million grant from the federal Health Resources and Services Administration (HRSA), Health Industry Solutions will train approximately 80 CHWs as a partner in a MetroHealth-led collaborative. Health Industry Solutions has partnered with local institutions like MetroHealth and Cleveland State University to provide scholarships and wrap-around training-related services for new and current CHWs with this three-year grant from the HRSA, an agency of the U.S. Department of Health and Human Services.
In September, HRSA awarded $225.5 million to 83 grantees as part of the Community Health Worker Training Program, which supports education and apprenticeships for about 13,000 CHWs.
"HRSA understood the value and saw how community health workers kept people afloat, kept people from isolation, kept people from getting too hungry, too lonely, and worked to meet people's needs through this pandemic," Rockamore said.
She hopes her department's continuing efforts will bolster an industry often hindered by lack of funding.
"We always say, 'The closer you are to the people you serve, the more you look like them' — and they were often paid like them," Rockamore said. "We needed to elevate this industry and to recognize them for who they are — going into the depths of these places, connecting to people all around the clock."
A CHW's day doesn't end at 5 p.m. Instead, this 24/7 job requires individuals to integrate with the community when traditional providers are unavailable.
"We're treating people with the respect they deserve," Rockamore said. "They're the subject matter experts in their life."
To succeed in community health, students must be prepared to work with people from complex — and often difficult — backgrounds.
"They have to be open to learning and having that desire to check themselves, being more introspective about their biases, their teaching," Rockamore said. "We always say, 'New information creates a new perspective, and that new perspective creates a new outlook.' That outlook then fosters and cultivates new behavior."
Certified by the Ohio Board of Nursing, the Community Health Worker program is one of Health Industry Solutions' four flagship certification programs. The department also offers certification in nursing, medical coding and patient access. 
November 07, 2022
By Noelle Bye, 216-987-4747 or noelle.bye@tri-c.edu