Grant Secures Training Equipment for Tri-C's Sterile Processing Program
$50,000 gift will go toward purchase of steam sterilizer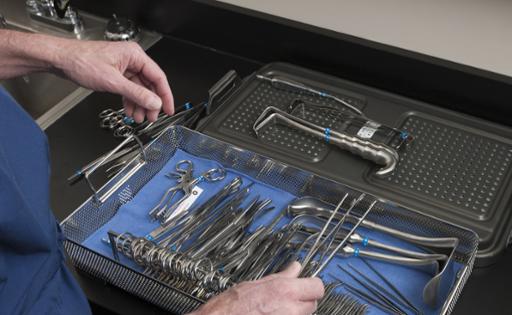 A $50,000 grant helped Cuyahoga Community College (Tri-C®) acquire a critical piece of training equipment for the Sterile Processing and Distribution Technology program. 
The gift will go toward purchasing an autoclave, or steam sterilizer. The machine decontaminates items using pressurized steam and is a standard piece of equipment in sterile processing departments in health care facilities. 
The College program's previous autoclave was inoperable and needed to be replaced. 
"Hands-on training with the latest equipment is crucial for our students," said Beth Stokes, who oversees Tri-C's Sterile Processing program. "This new steam sterilizer builds on our efforts to prepare graduates to step into a job and succeed." 
The College offers a nine-month sterile processing training curriculum as part of its health careers program. Graduates are eligible to sit for the professional certification test given by the Certification Board for Sterile Processing and Distribution. 
Coursework can also be applied toward requirements for several health care-focused degrees, including an Associate of Applied Science in surgical technology. 
Sterile processing technicians play an important role in medical care to ensure patient safety and combat infection in hospitals and surgical facilities. Employment forecasts show high demand in the field. 
Visit tri-c.edu/healthcareers for more information on the College's program.
January 20, 2021
John Horton, 216-987-4281 john.horton@tri-c.edu