German Delegation Visits Tri-C for a Lesson in Workforce Training
Exchange project focuses on finding best practices for economic development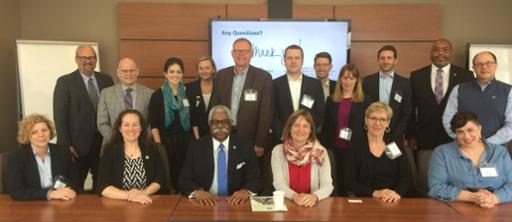 A delegation of German business leaders visited Cuyahoga Community College (Tri-C®) during a two-day tour of Northeast Ohio to learn how Tri-C is meeting the region's workforce needs in this changing economy.
The visit was part of a new initiative titled Transatlantic Cities of Tomorrow: Digitalization and the Future of Work. The three-year exchange program seeks to bring together leaders from U.S. and German cities to find solutions to workforce challenges in today's digital world.
The 17-member German delegation met with Tri-C's Workforce, Community and Economic Development (WCED) division on Monday, April 29. Discussions focused on training programs targeting key industry sectors such as health care, advanced manufacturing and information technology.
The College's work in blockchain — an emerging technology viewed as a catalyst for economic opportunity — took a lead role in the presentation.
"European nations view American workforce training programs as a best practice model," said William Gary, executive vice president of WCED. "They want to know how we do it — and specifically, how we do it so well here at Tri-C."
The exchange project is organized and administered by the American Council on Germany with support from Germany's Transatlantic Program through funds from the European Recovery Program of the Federal Ministry for Economic Affairs and Energy.
April 29, 2019
John Horton, 216-987-4281 john.horton@tri-c.edu