Former Tri-C President Honored With Cleveland Heritage Medal
Alex Johnson celebrated for leadership, collaboration, impact on community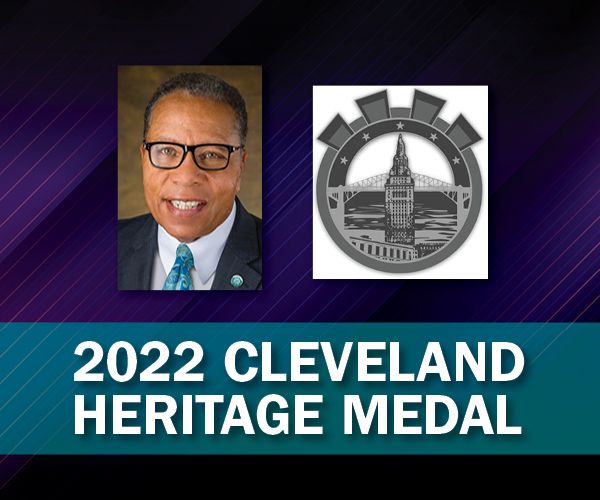 The president emeritus of Cuyahoga Community College (Tri-C®) was recognized with one of Cleveland's greatest honors for his impact on the city. Alex Johnson was one of three recipients of the Cleveland Heritage Medal during a ceremony in November at Cleveland City Hall. 
The Cleveland Heritage Medal is awarded annually to individuals whose leadership, collaboration and service leave an "indelible mark" on the Cleveland community. Recipients are nominated by a selection committee made up of community and business leaders and public nominations. 
Johnson served as the College's fourth full-time president from 2013-2022. Under his leadership, Tri-C renewed its commitment to providing educational access throughout Northeast Ohio. He oversaw an era of increasing graduation rates and numbers at the College ― the result of new investments in workforce training, capital improvements and programs serving those in low-income and distressed areas. 
He also serves on several local boards, leading a citywide commemoration of Carl and Louis Stokes, co-chairing the selection committee for the Cleveland Community Police Commission and supporting the creation of Tri-C's Stand for Racial Justice Alliance. 
Other honorees were Milton Maltz, founder of Malrite Communications Group and co-founder of the Maltz Museum, and retired social worker and Cleveland-area activist Joan Southgate. 
Johnson is the second Tri-C president to receive the Cleveland Heritage Medal. Jerry Sue Thornton, who was president of the College from 1992-2012, won in 2018. 
Cleveland Jewish News provided coverage of the event.
December 07, 2022
MEDIA CONTACT: Anthony Moujaes, 216-987-3068 or anthony.moujaes@tri-c.edu