Tri-C Grad Finds Success Through Workforce Training
2020 alum Shilaah Patterson advances her career with skills training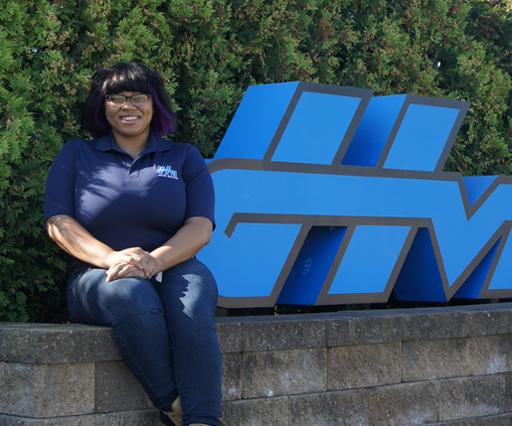 Despite growing up in poverty and facing the death of her mother at just 14 years old, Shilaah Patterson has always been a top student. In fact, her high marks allowed her to skip third grade and eventually graduate from Euclid High School at just 16.
But being younger than most high school graduates made it difficult for Patterson to find full-time employment — that is, until she landed a job as a packer at King Nut Co. in Solon. There, Patterson's fascination with the CNC machines used to package and seal products prompted a manager to promote her to machine operator, at which she proved highly adept.
After giving birth to her daughter, Thalia, at 19, Patterson resolved to advance however she could. "I wanted her to know a life better than I could have dreamed," she said.
On the recommendation of a cousin, Patterson decided to enroll in the Advanced Technology Academy at Cuyahoga Community College (Tri-C®). Funded by the Workforce Innovation and Opportunity Act through OhioMeansJobs/Cleveland-Cuyahoga County, ATA offers free in-demand career training to students ages 17 to 24. After one visit to the ATA machine shop at Tri-C's Metropolitan Campus, she immediately signed up for the Precision Machining Technology track.
When COVID-19 shut down classrooms midway through her training, Patterson admits she felt uncertain and apprehensive about the future. But ATA staff and College leadership helped allay her fears. "They reached out to reassure us we would have the opportunity to finish, and when we were able to return to in-person learning, it was to a very safe environment with all the supports we needed to finish successfully."
Patterson earned a certificate in Precision Machining Technology in May 2020 and was soon hired as a full-time fittings coordinator at Hose Master, a metal fabricator in Euclid. Two promotions followed within her first year at the company — first to machine technician, then to a salaried position as quality liaison.
"She hit the ground running at Hose Master and has maintained that same level of energy and passion that she showed on her first day," said plant manager Keith Anthony.
Anthony Foti, chief administrative officer, agrees: "Shilaah has become a valuable member of our team. She is intelligent, curious, driven and a hard worker. I am very excited for her future at Hose Master.
Patterson returns her bosses' enthusiasm in full measure.
"I love my job and my industry, and I owe so much of my success to Tri-C and all of the support and opportunities afforded to me when I needed them most," she said. "Critical manufacturing skills are accessible to everybody right here at Tri-C, and they will lead to a better life."
December 20, 2021
By Anthony Moujaes, 216-987-3068 or anthony.moujaes@tri-c.edu