Finding Peace: Study Abroad Opportunity in Costa Rica Gives Students Insight Into a Different Culture
Study abroad opportunity in Costa Rica gives students insight into a different culture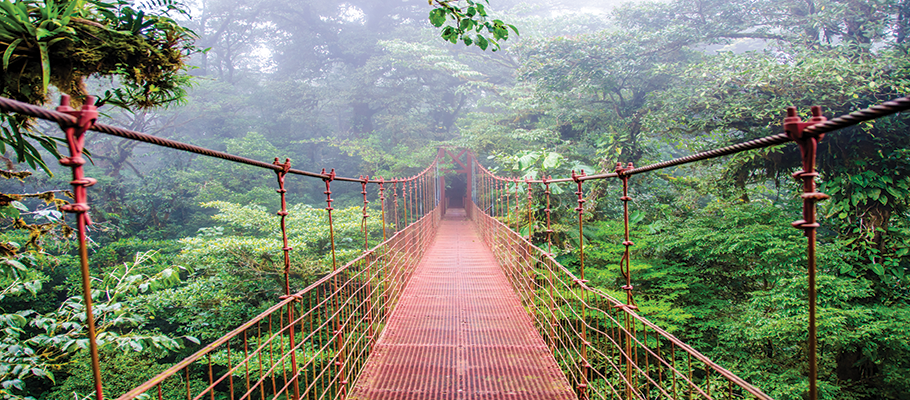 There is a lot to see in Costa Rica — red-eyed tree frogs, coffee plantations, scarlet macaws. The Monteverde Cloud Forest Reserve alone is home to 2,000 plant species. The capital city of San Jose seems like another world altogether.
"You get off the plane and it's awesome," said Brad Lipinski, assistant professor of philosophy and humanities at Tri-C. "The weather, the humidity hits you right away. There are banana trees everywhere and you're surrounded by mountains."
Welcome to the College's southernmost campus.
Each spring, Tri-C offers 10 students in its Conflict Resolution and Peace Studies program the opportunity to study in Costa Rica. The two-week trip finds students attending lectures and workshops at the International University and out and about on experiential learning days.
To be considered for one of the openings, students must have passed prerequisite classes, be able to pay for the trip (scholarship money is available) and go through an intensive interview process.
Lipinski led his first trip in 2017 and returned again this year — the eighth for the study abroad experience. Tri-C partners on the program with Northampton Community College in Bethlehem, Pennsylvania.
Students stay with host families, giving them ground-level exposure to Costa Rican life. They visit high-level government institutions. They tour a "restorative" prison where the maximum sentence is 30 years and inmates earn a salary to help victims and pay fines. They visit national monuments and hike near a volcano.
Students take a day trip to Earth University, a government-supported school that teaches sustainability. In 2016, 98 percent of Costa Rica's electricity came from sustainable sources.
Along the way, students get an up-close-and-personal view of a different society — one that in many ways reflects ideas discussed in the College's Conflict Resolution and Peace Studies program.
"People live amongst each other, not separated by wealth," Lipinski said. To say there is no crime in Costa Rica would be incorrect; however, many homes don't even have windows that close.
What really influences the Central American country — what shapes it at its core — is something unseen. In the middle of the 20th century, following a civil war, Costa Rica abolished its military.
This has influenced personal, social and political life. Lipinski said, "There's no aggression. It's very laid back."
The country — which Lipinski called the "Geneva of the Americas" — is considered a sort of progressive experiment. It also ranks among the worldwide leaders in funneling national dollars into education.
Lipinski said one of the highlights of the trip comes during the final weekend, when the group visits the Monteverde Cloud Forest. Students can hike the Continental Divide and get to stay in a bunkhouse that's not open to tourists. The founders of the reserve also meet with students and give them a tour that includes the biological research center on site.
"It's an intense day," Lipinski said.
But the trip has value that goes beyond seeing Costa Rica's sights and studying its social organization.
"You think about what you can do," Lipinski said. "You see the immediate effect a person can have. There is this empowerment that you get, like you can tackle anything."
April 16, 2018
Jarrod Zickefoose, 216-987-4750 jarrod.zickefoose@tri-c.edu