Finding Opportunity for Business Growth at 10KSB
Nyema Bedell expands family counseling practice to fit a community need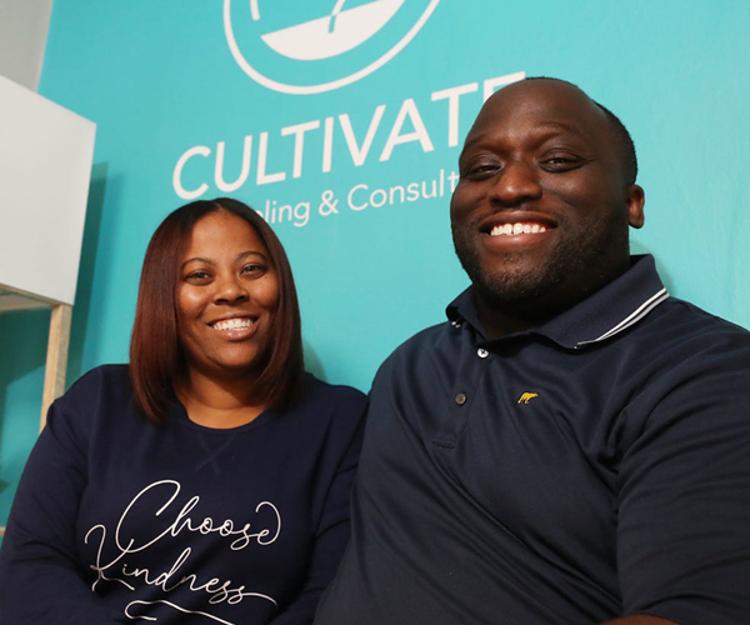 Nyema Bedell was proud of how his family-owned mental health practice was serving client needs, but he continually felt that something was missing.
He found the answer in the Goldman Sachs 10,000 Small Businesses (10KSB) program at Cuyahoga Community College (Tri-C®). By networking with his peers in the program, Bedell discovered a need for mental health conversations in group settings beyond a therapist's office.
"Unfortunately, many people do not realize they struggle with mental and emotional health until they share their feelings," he said.
Cultivate Counseling & Consulting was founded in 2018 by Bedell and his wife Keisha, to promote healing, growth and positive change. Located in Cuyahoga Falls, Cultivate specializes in mental health counseling, providing culture-centric, trauma-informed services that comfort individuals and families during times of hardship and crisis.
With the growing need for mental health awareness in the workplace, business owners are seeking safe environments for conversations that let employees know it's OK to feel vulnerable. Businesses are willing to provide group counseling on company time at no cost to the employees — and they need spaces like Bedell's.
To meet that need, Cultivate is expanding its services to offer group sessions at workplaces, places of worship and schools to facilitate these conversations — especially among men.
The strategy is expected to generate financial growth and provide a valuable resource for small business owners, meeting the practice's goal of balancing financial growth with positive community impact.
Bedell calls 10KSB one of the best decisions he's made for himself and his business. The 19-week program helps entrepreneurs create jobs and economic opportunity by providing greater access to education, financial capital and business support services.
"I am able to meet with a business advisor on a weekly basis and have a small group of colleagues," he said. "I share and receive constructive criticism and hear various viewpoints, which has helped my business grow."
Bedell learned about 10KSB from a previous graduate. The program has given him a more comprehensive understanding of business finances, which has helped him expand his practice to meet these new demands.
"I was paired with a great business advisor, and the staff and faculty associated with 10,000 Small Businesses are phenomenal," he said. The cohort's diversity also "provided an opportunity to share challenges and solutions from different experiences and perspectives."
January 13, 2022
By Anthony Moujaes, 216-987-3068 or anthony.moujaes@tri-c.edu