Feeling Isolated? Learn How to Build Trust with Neighbors
Discussion March 20 at Tri-C Mandel Humanities Center to explore weaving the social fabric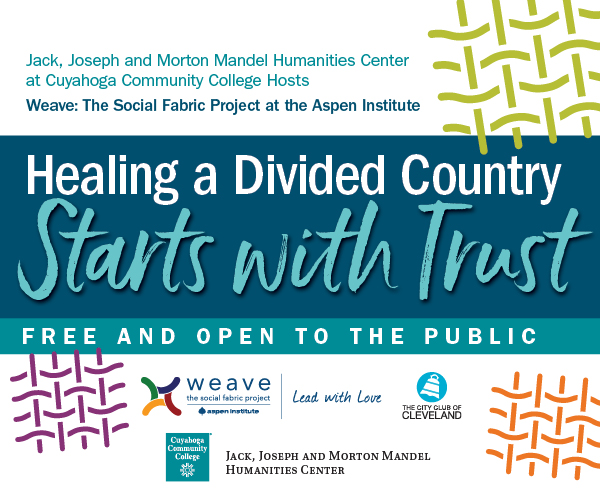 Even with Americans' social trust at a 50-year low, more people are seeking opportunities to connect with their neighbors and fellow citizens.
To help Northeast Ohioans create that reality, the Jack, Joseph and Morton Mandel Humanities Center at Cuyahoga Community College (Tri-C®) will host a one-day event on building trust and restoring hope.
The event, Healing a Divided Country Starts with Trust, is March 20 from 5:45-7:30 p.m. at the Simon and Rose Mandel Theatre at Tri-C's Jack, Joseph and Morton Mandel Center (4250 Richmond Road, Highland Hills, 44122). 
"Humanities classrooms are one of the last places in America where people who see the world in different ways actually get together and talk with each other about big ideas," said Matthew Jordan, dean of the Mandel Humanities Center. "It's encouraging to see the way students in Tri-C's Mandel Scholars Academy make connections and build friendships in the midst of disagreement, and we hope that this event will be an opportunity for members of the broader northeast Ohio community to take steps in the same direction."
Research from Pew shows that 35% of Americans are chronically lonely, 50% say no one knows them well, and two-thirds doubt the honesty, integrity and reliability of others.
Individuals can learn how to be weavers and address their common needs through an open discussion with a team from Weave: The Social Fabric Project. Weave is part of the Aspen Institute, a global nonprofit organization founded in 1949 that's committed to creating a free, just and equitable society.
The event is co-sponsored by the Jack, Joseph and Morton Mandel Humanities Center at Tri-C and the City Club of Cleveland.
The discussion is free and open to the public. Register online by March 13 and learn more at tri-c.edu/weave.
February 28, 2023
MEDIA CONTACT: Anthony Moujaes, 216-987-3068 or anthony.moujaes@tri-c.edu